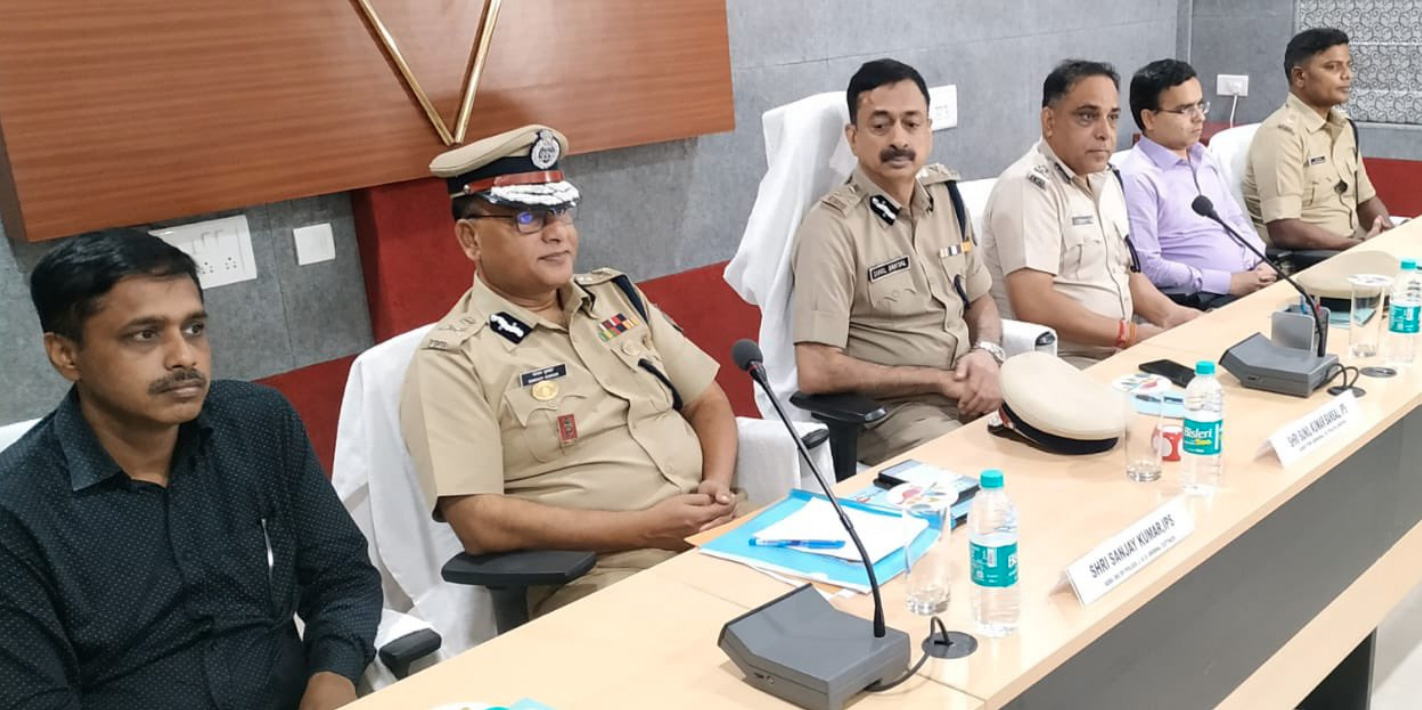 Baripada: DGP Sunil Bansal today praised the Mayurbhanj police for its achievement in the ongoing the anti-poaching drive in Similipal—Sikari Mukta Similipal.
During the special drive to eliminate poachers from Similipal tiger reserve, the police have arrested 21 poachers and seized 165 country-made guns during the last two months, Shri Bansal said.
After holding meeting senior police officials at Baripada about the anti-poaching drive– Sikari Mukta Similipal, DGP lauded the Mayurbhanj police for the success and said the district police have seized more than 165 country guns and pistols along with hundreds of bullets during the special drive.
ADG Law & Order, Sanjay Kumar, IGP Eastern Range, Himanshu Kumar Lal, Director Similipal Tiger Reserve, Prakash Chand Gogineni, District Collector, Vineet Bhardwaj, SP Battula Gangadhar and other senior officials were present during the meeting.
Shri Bansal said a pair of deer horns, pangolin scales, 72 pieces of bearing balls (pellets used firing SBML), 500 gm gunpowder, four handmade bombs, and one arms-making unit among others were seized during the raid.
In connection with the above seizures, 48 cognizable cases were registered and 21 people arrested in the district of Mayurbhanj. The district police is encouraged to continue the intelligence-based operations to make Similipal free from any illegal activities and poaching and to strengthen the efforts of the forest department in combating illegal poaching, the DGP said.
"Similipal is not only an important place for Odisha but also for the entire India and world. When we came to know that some illegal activities were going on inside the tiger reserve, we took the decision to launch an operation to crackdown on the illegal activities and take action against the poachers," Shri Bansal said.
Very few among the tribals residing inside the tiger reserve were engaged in the illegal poaching practice and action has been taken against only such people, the DGP informed.
Due to the active support and cooperation from the local community, the operation was made successful.
Following the killing of two forest officials in the tiger reserve during patrolling in May and June last, the Mayurbhanj police had launched special operations under all 14 police stations adjoining the Similipal Tiger Reserve, he said.
The DGP assured all possible support and resources to continue such operations to make Similipal a safe haven for tigers and other wildlife.
The State Government recently constituted a joint task force comprising around 200 armed police and forest personnel to protect STR and its wildlife. The task force has been assigned with the key responsibilities of collecting intelligence and identifying people holding illegal arms and ammunition in fringe/buffer villages of the tiger reserve and to prepare a database.