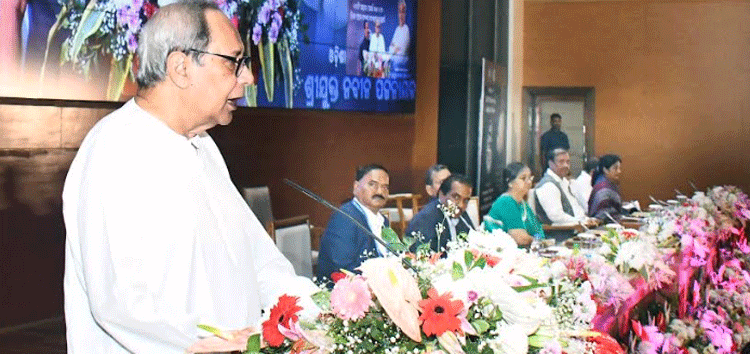 Bhubaneswar: Chief Minister Naveen Patnaik has said that providing good drinking water to every family has been his dream for a long time and always the priority of his Government.
CM launched the Drink-from-Tap (DfT) service in 19 new towns and said, "Today is a historic day. Water is precious to all of us. Therefore, do not waste even a single drop of water, and  we should use it properly."
He said that clean water is the most important need for public health, the Chief Minister said that this facility will significantly improve the standard of living of the people under the 5T initiative.
"Today these cities of Odisha have been added to the list of big cities of the world and are getting good and clean water according to the standards of Bureau of Indian Standards.
CM said there is a smile on everyone's face, and relief from waiting for clean water.The users expressed their happiness and said that they have got rid of all the hassles of waiting in queues for hours and waiting for water. Thanks to the Chief Minister for this.
The Urban Zones where 'Drink from Tap' facility was launched are – Bhubaneswar, Cuttack, Nimapada, Berhampur, Gopalpur, Rourkela, Sundergarh, Birmitrapur, Rajgangpur, Keonjhar, Joda, Badbil, Champua, Anandpur, Baripada, Rairangpur, Udla, Karanjia and Vyas Nagar.
Earlier the scheme was launched in Puri. In Gopalpur too, the second city in the state, 100 percent people will have access to the drink-from-tap system from today.
Chief Minister Mr.Patnaik on the occasion announced the launching of the facility in Khurda, Jatni and Hinjili towns which will benefit nearly 1.50 lakh people of these three towns.
Housing and Urban Development Minister Usha Devi said that due to the vision and strong leadership of the Chief Minister, the people of Odisha are getting better quality services today.
OMBDAC Oversight Authority Chairman Justice Anang Patnaik said that he often visited the mining areas and felt the problem of people for potable water.
"Today in those areas, remarkable work has been done in the field of drinking water," he said, lauding the initiative of Chief Minister.
Principal Secretary of Housing & Urban Development Department G Mathivathanan complimented WATCO CEO Pradipta Kumar Swain for launching the scheme.