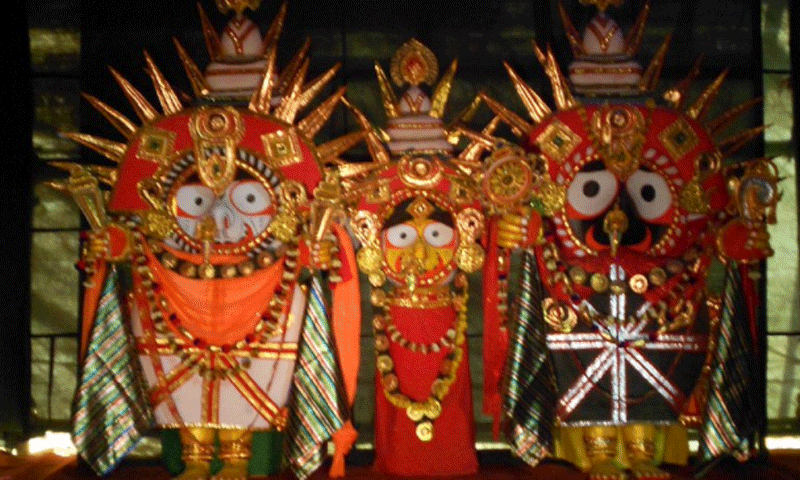 Puri: Thousands of devotees visiting Shree Jagannath Temple here today for divine glimpse of the Holy Trinity as the temple reopened for the public in this New Year, 2022.
The Srimandir had remained closed on December 31 to January 2 on account of a large gathering that was anticipated on those days due to the celebration of New Year 2022.
Despite chilling weather, a huge number of devotees came from various places of Odisha and outside the State especially West Bengal were seen waiting in a queue from early morning to have darshan of Lord Jagannath and his siblings.
Entry of devotees to the temple for the darshan of the Lords was started from 5:30 AM and will continue till 9:30 PM, as per the SOP issued by Shree Jagannath Temple Administration (SJTA).
The District Administration and SJTA have made adequate security arrangements at the Srimandir in view of the huge gathering of the devotees. Adequate police arrangements have been put in place to facilitate a smooth darshan of the deities with strict adherence to Covid-19 protocols.
The devotees have been urged to abide by all the rules of Covid-19 including social distancing, usage of masks and to enter the temple within the barricades.
Meanwhile, newly appointed Director General of Police (DGP) Sunil Kumar Bansal along with his wife has visited the Srimandir for the darshan of Lord Jagannath and his siblings today.
"Though I was wishing to visit the temple for a long time, I could not make it. My wife was requesting me to take leave to have darshan of the Lord. Now, with the blessings of Lord Jagannath, I got posted in Odisha and today we took blessings from the Lord," Mr.Bansal said here.
Another tourist attraction point in the District, Konark Sun Temple has also witnessed a huge rush after the temple was reopened on Monday. The world heritage site had remained closed for December 31, January 1 and 2 on account of a large gathering that was anticipated on those days.