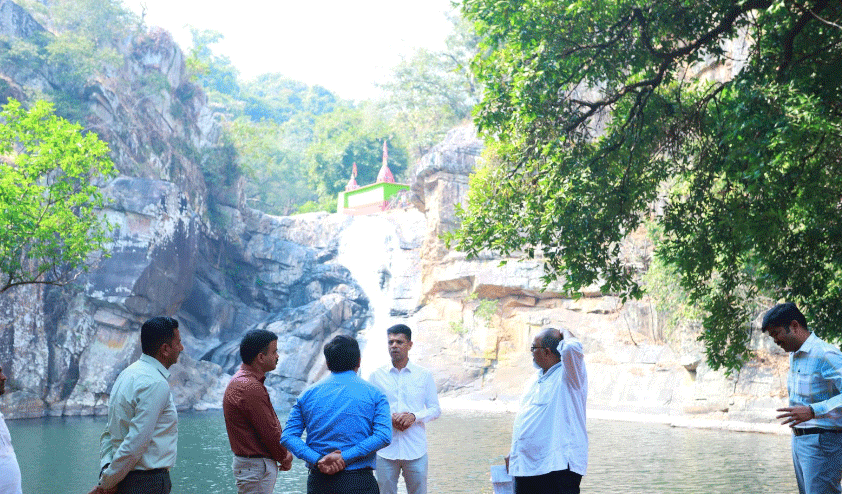 Baripada: "When Secretary to CM V K Pandian issues an order it is implemented then and there. So we are waiting for a Development Plan for one of the foremost tourist attractions of Mayurbhanj-Devkund", said Chief Priest of the Hilltop Shrine.
In fact State Government has planned to develop Devkund as a major Tourist Center, thanks to the initiative of V K Pandian, Secretary to CM.
Secretary to Chief Minister VK Pandian visited Devkund on 2 March. ACS Tourism Surendra Kumar was also present. They discussed with the officials and local public regarding development of Devkund as a major tourist attraction.
Then Shri Pandian asked the District Administration to consult with all stakeholders and send a proposal to Tourism Department for redevelopment.
The State Government is taking up redevelopment of major heritage tourism sites of the state under its 5T transformation program.

A trip to Devkund laced with natural wonders and rustic beauty makes it a must-visit location and perfect for a weekend gateway.
Devkund is situated at 60 km from the main town of Baripada and 85 km from Balasore district.
Devkund is going through in Udala Sub Division of Mayurbhanj District. It is a natural beauty of Odisha and Similipal National park is near it.

There are five huge ponds in Devkund, Devkund Devikund Haridrakund Tailakund and Bhudarkunda.
Devkund means the 'Bathtub' of Gods and Goddesses is a natural spring with constant flow of freshwater fed by flow from top of the Similipal Hill Ranges.
So this place is very important for Hindu culture peoples, as they believe that it the bathing place of their Gods and Goddess, so by touching this water they get blessings of their God and Goddess.
Trinity Mata Kurkulla Devi of Kusan Age, Mata Tripurasundari and Mata Bhagamalini are worshiped here since time immemorial. And it is known as a place of sacred tantric practices, where Left Foot and Yoni of Mata is worshiped as Maa Ambika.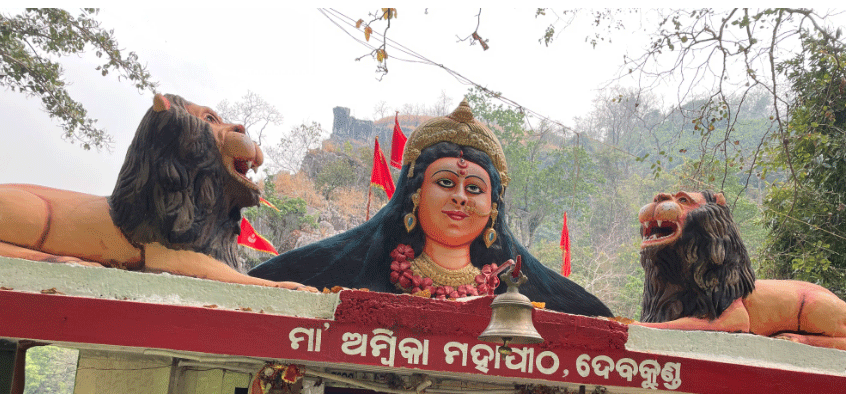 "This is 51th Tantra Pitha and Maa Ambika is worshiped like Mata Kamakshya Devi here. Here also Annual Menstruation of the Goddess is celebrated during Raja Utsav", said Bibhuti Bhushan Padhi, who is the Chief Priest of the Maa Ambika Temple since last 20 years.
Earlier his father Rabindranath Padhi of 80 years age was the Chief Priest and now living in Govindpur, a nearby village at Devkund.
He at the age of 80 walks down the entire stretch with ease, thanks to the Blessings of Maa Ambika.
Similarly Mata Barahi Devi is and Satarudra Mahadev with 100 Lingas is being worshiped. Way back in 1956 Mayurbhanj Maharaja Prafulla Chandra Bhanj Deo erected the temple for Maa Ambika.
There was no proper path to reach the Hill Top Temple. In 2013 Department of Forest funded the project and 401 steps have been set up for ease walking up to the temple.

Mainly tourists and devotees from Odisha and West Bengal visit Devkund from November to May. Due to heavy rains this area becomes unapproachable, said the Chief Priest. So Temple gets closed for devotees from June to October.
During these months priests face financial difficulties to run the rituals and there was hardly any support from the Government.
In fact Devkund during November, December, January months attracts huge tourists and devotees
Nature and Temple based tourism can be developed, pointed out Ajay Das, a veteran tourism expert from West Bengal. He along with family and friends came to Devkund from Howrah.
While there is huge scope for development of facilities for the tourists, nothing much has been done.
All the stakeholders, tourists, devotees and priests are waiting for the development of one of the beautiful, serene and religious center as a major tourist destination.
In fact Devkund eyes for 5T support for its transformation and improving its infrastructure. High hopes are pinned on Secretary to CM V K Pandian, who is an ardent devotee of Divine Goddess, said Chief Priest Shri Padhi.