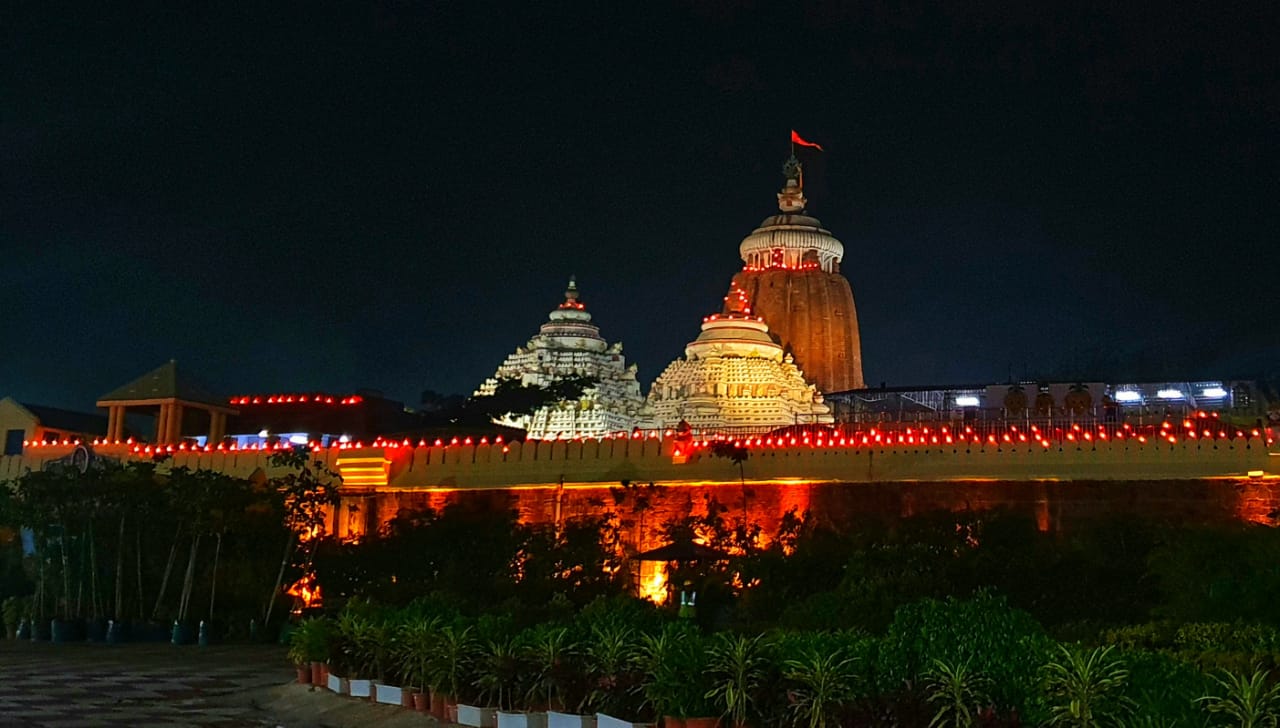 Puri: Three-day long festival of light in Srimandir popularly known as 'Deba Deepabali' is being observed at Shree Jagnnath Temple here from Friday.
Today, Lord Jagannath, his elder brother Balabhadra and sister Subhadra are observing Madhya Deba Deepabali and Amabasya.
Every year, the festival begins on the day of Krushnapaksha Chaturdashi Tothi in the Hindu month of Margasira, and continues on Amabasya and Pratipada.
After the "Sandhya Dhupa" ritual, the Sevaks adorn Mahaprabhu Shree Jagannath with a white Nagapuri Kasha Dhadia cloth measuring 16 hands in length, 14 hands in length for Shree Balabhadra and 12 hands in length for Devi Subhadra and they proceed for offering obeisances to Kashyapa and Aditi on the first day.
The divine "Shradha Besha" of the deities is performed in observance of the ritualistic rites to ancestors or "Pitru Punisha", which was started on yesterday, concluded today. .
In the adornment, the deities are made to wear "Tadagi, Nalibhuja, Chandra, Surjya, Kundali, Adakani, Harida Mali, Kamarapati".
In front of the 'Ratna Singhasana' a motif of tree and an offering of 28 "Deepas" or oil lamps is performed and the same ritual is observed near the "Jaya Bijaya Dwara".
On the first day, the Lords offered pinda to King Indradyumna, who installed the divine Trinity in the temple. According to legend, he asked for a boon to end his dynasty so that none of his successive family members could claim ownership of the temple. The boon was granted by Lord Jagannath, who volunteered to offer pinda to his ardent devotee Indradyumna.
On the second day, as incarnation of Sri Ram Lord Jagannath offered pinda to his father king Dasarath and as Krishna he offered Pinda to parents Basudev and Devaki.
Likewise, on the third day, the pinda will be offered to his foster parents Nanda and Jashoda. During these three days, a set of complex rituals were observed and the deities were adorned with Shradha Besha.
Temple was illuminated by a large number of diyas. Hundreds of devotees waited for hours in front of the temple since afternoon to witness the ceremony.
Display of fireworks from the temple top was enjoyed by the devotees. The temple administration had taken special measures for completion of all the rituals of the lords in time. Lakhs of devotees taste Mahaprasad during these three days.