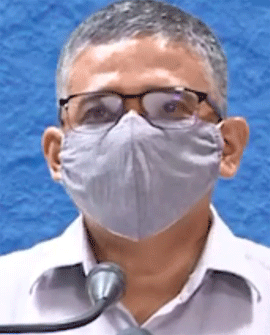 Bhubaneswar: Additional Chief Secretary, Health & Family Welfare, PK Mohapatra said no death either due to Covid or non-Covid can be hidden.
Addressing the media in a virtual platform on Wednesday, Mr.Mohapatra said, "Various reports are being published in the media on different times about the Covid deaths. Everyone should know the reality and how it is being reported. Every death is accounted for. No death can be hidden by anybody. Either it is Covid death or non-Covid in any hospital or place."
To know whether it was a Covid death or non-Covid, the Union Government has issued guidelines.
Accordingly, the State Government has put in place a three tire mechanism, he pointed out.
ACS Health said that the Hospital-Level Committee is at the base while District-level Committee and State-level Committee are also there to review whether a death is Covid or non-Covid.
"During May and June, the Covid infection was very high. At that time, the hospitals were occupied and our doctors were very busy in treating Covid patients and preventing the disease from spreading further. So they could not give time for this task," said Mr.Mohapatra. He further said cyclone Yaas added to the woes.
Now, the situation has improved and the doctors are now free to do these works and the deaths are being reviewed each day, the ACS Health said.
"During past few days, we have seen a rise in Covid death cases. All these cases are of May and June. But, reported now after following due procedure and audit," he further clarified.
ACS Health appealed to the public not to consider this as the fresh numbers. The situation is well under control now and the number of deaths in Covid hospital is very low. It will take some more days to get the final death figure, he added.