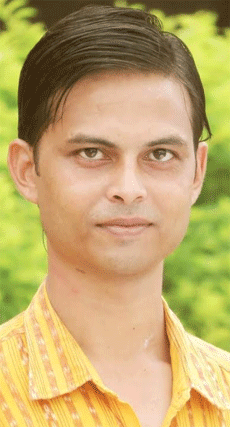 Bhubaneswar: In an irreparable loss for the journalist field in Odisha, a young and daredevil journalist Arindam Das died in a boat mishap in the line of duty at Mundali barrage in Cuttack on Friday.
He passed away while covering an extremely dangerous rescue operation of a wild elephant, which was trapped in Mahanadi river near Munduli barrage in Cuttack district.
When all media persons were covering the operation from the bridge of the barrage, Arindam and his cameraman Prabhat Sinha went along with the rescue team of Odisha Disaster Rapid Action Force (ODRAF) in a boat to get close and exclusive visuals from ground zero.
Suddenly, the boat, having seven persons on board, was overturned and capsized due to the strong current of the river near the barrage. Despite repeated attempts, the ODRAF crew failed to bring the boat into control.
Along with the five ODRAF personnel, Arindam, Chief Reporter of Odisha Television Limited (OTV) and his camera person drowned at the site. Soon after the incident, a rescue operation was launched immediately and six personnel were brought to the banks while another is still missing, said a police official.
The rescued persons were rushed to the SCB Medical College and Hospital in Cuttack where the doctors announced Das was brought dead. Though the specialized doctor team tried their best to save Arindam, they failed, said  SCB Emergency Officer, Dr Bhubanananda Maharana.
Mr.Sinha, who is critical and has been admitted to the ICU, is struggling for life. Three ODRAF personnel are also undergoing treatment at the hospital, he said.
This is not the first time Arindam has shown such daredevil courage to cover an incident. From the beginning of his career as a journalist, he was doing such things and tried his best to give unseen and un-usual visuals and feelings to the viewers. He was the person who readily agreed to cover an extremely deadly event to cover Maoist Sabyasachi Panda He covered many natural disasters including cyclone Fani, Hudhud, Titli and Amphan, and floods.
A pall of gloom descended all over the state after the death news surfaced. Chief Minister Naveen Patnaik, Union Minister Dharmendra Pradhan, ministers, senior journalists and politicians have condoled the demise of the journalist.
Stating this is a huge loss for the journalists' fraternity of Odisha, the Chief Minister said, "May his soul rest in peace". He expresses deep grief at the untimely demise of Das in boat mishap in Mahanadi.
"I'm deeply saddened at the passing of #OTV journalist & my friend Arindam Das. He had created his own identity with his daring news reportage in challenging circumstances. His demise has created a void in the Odia media fraternity" said Union Education Minister Dharmendra Pradhan.
"Deeply shocked at the untimely passing of colleague Arindam.. He was a brave & ethical journalist. Om Shanti," tweeted OTV MD Jagi Mangat Panda.
"He was & is a hero" Deeply anguished by boat tragedy which, despite safety precautions, took life of #OTV's intrepid chief reporter Arindam Das while covering an ODRAF elephant rescue. Deepest condolences to his family & prayers for the injured & missing," said BJP leader Jay Panda.