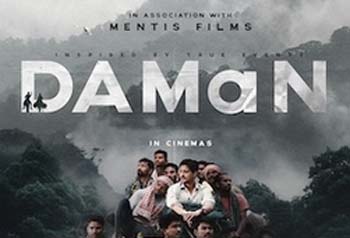 Bhubaneswar: Chief Minister Naveen Patnaik on Friday announced that Odia feature film Daman, which is based on the malaria eradication program of the State Government, would be exempted from entertainment tax.
The Odia movie, having popular actor Babusan and actress Dipanwit Dashmohapatra in lead roles, has shown the struggle of a young doctor in providing medical services in remote areas of tribal dominated and Maoist-hit Malkangiri district.
The Chief Minister expressed hope that this will encourage the employees of the Health Department and other government employees posted in the remote area to serve the public more delicately.
The Chief Minister has expressed his strong belief that if the various departments of the state government would work collaboratively like the Covid-19 pandemic period, a healthy and sensible society can be built.
The movie stars Babusan Mohanty and Dipanwit Dashmohapatra in lead roles. Siddharth played by Babusan, a young doctor who completed his MBBS from Bhubaneswar has been posted to Janbai PHC in Malkangiri.
Apart from different cities of Odisha, the movie was also shown in 15 theatres in six cities, including Delhi, Mumbai, Bengaluru, Hyderabad, Raipur, and Ahmedabad with a good number of Odia population for a week. All the shows within the state and outside saw a packed house.
Receiving very good feedback, the film makers are planning to release the movie in Hindi soon.