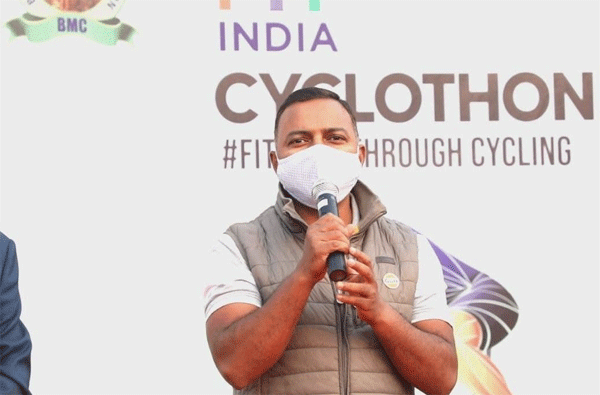 More than 300 cyclists braved the winter chill of the year-end today in the Temple City to participate in the FitIndia Cyclothon Campaign, which was organised by Bhubaneswar Smart City Limited and Bhubaneswar Municipal Corporation.
The event, which was flagged off from Ekamra Plaza near Sishu Bhawan Square, culminated at Sikharchandi Hills, covering a distance of 12.1 km
The event also had the august presence of Arjuna Awardee cyclist Minati Mohapatra and CEO of Smart City and BMC Commissioner Prem Chandra Chaudhary.
Welcoming the participants and making an appeal to stay fit by cycling, the eminent cyclist said that if we continue the good practice then Corona could also be prevented as cycling would enhance immunity like other exercises.
The Smart City CEO and BMC Commissioner said "resident welfare associations have started adopting cycling as a community activity and BMC has been removing encroachments from cycle tracks along the Priority Road Network. Friday CycleGiri has become a popular event every week."
The Cyclothon flag-off was buoyed by energetic CycleGiri anthem song while the cyclists pedaled it out to Sikharchandi.
It can be mentioned here that Minati Mohapatra is the first Odia Arjuna Award winner (1980) and first woman cyclist of Odisha was the chief guest of the Cyclothon.
She was national champion in cycling for eight consecutive years. She is also an internationally acclaimed cyclist, who has won several gold medals in national and international cycling competitions.
In the early morning event BMC Additional Commissioner Surath Chandra Mallick, GM (Administration) Bhubaneswar Smart City Limited Kamaljit Das, GM (Engineering) Ashwini Kumar Bishwal, Zonal Deputy Commissioner (South East) Anshuman Rath, Assistant Commissioner (PR & Communication) Lilan Prasad Sahoo were present among others. Many senior officials from Smart City and BMC also attended.
The event under the FitIndia initiative of the Ministry of Youth Services and Sports under the guidance of Smart City Mission of the Ministry of Housing and Urban Affairs is part of the thematic campaign "Fitness ki dose, adha ghanta roz'' (the dose of fitness should be for half an hour daily) to make the nation fit, healthy and youthful.
The Temple City of Bhubaneswar has been organizing Cyclothons regularly and CycleGiri on every Friday to keep the trend going among the youth and fitness enthusiasts.
The FitIndia Movement is an initiative to take the nation on a path of fitness and wellness. It provides a unique and exciting opportunity to work towards a healthier India.
The basic philosophy of the movement is "Fitness is zero percent investment with infinite returns". According to health-care experts as the root cause of most diseases are lifestyle disorders and there are many diseases that can be overcome by making small changes in our lifestyle. Lifestyle diseases like diabetes and hypertension are increasing in India. Hence, FitIndia should be seen as a household movement, a daily routine.