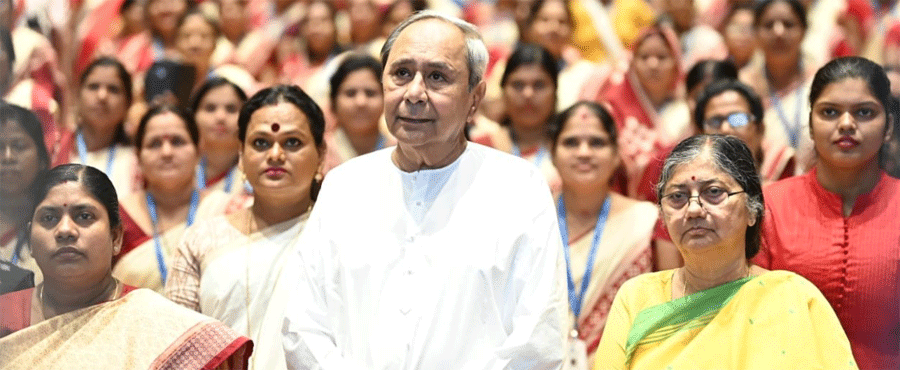 Bhubaneswar: Chief Minister Naveen Patnaik on Thursday distributed 8000 bicycles among community partners working in different urban areas of the State.
A program in this regard was held here at the Convention Centre in Lok Seva Bhawan.
Free bicycles have been distributed to sanitation workers, Swachh Sathi, Aahaar Centre workers, Jala Sathis and supervisors etc.
The program was jointly organized by the Housing and Urban Development Department and Mission Shakti Department.
Addressing the occasion, the Chief Minister said that partnership of community workers has made Mission Shakti a successful program.
The CM said that he is going to different areas of Odisha and meeting the Mission Shakti members. They are also visiting his home Naveen Niwas to meet him.
"Success of the Mission Shakti mothers makes me very happy. Your confidence and enthusiasm have made the Mission Shakti a number one successful program," Shri Patnaik said.
He also said that Mission Shakti mothers have taken up many responsibilities in community participation programs in different cities. They are managing Aahaar Centres, solid waste management, sanitation, water supply, etc.
Stating that everyone is happy with their work, the Chief Minister said that the State Government is providing them bicycles so that they can discharge their responsibilities smoothly.
He lauded the Housing and Urban Development and Mission Shakti Departments for granting incentives of Rs.100 crore.
The Mission Shakti program of the State Government has created a reputation in the entire world on community participation programs, he added.
The Chief Minister called upon everyone to work together and increase the reputation of Odisha.
Participating in the program, Housing and Urban Development Minister Usha Devi said that Mission Shakti mothers are doing a great job to realize the Chief Minister's dream of building a new Odisha.
Having a bicycle can give them a lot of convenience and freedom in the workplace, she said.
Mission Shakti Minister Basanti Hembram said that Mission Shakti has set a new milestone today under the direction of the Chief Minister.
During the program, two Mission Shakti members, Padmavati Das (Aahar centre worker) and Sita Murmu (sanitation worker) narrated their own experience and said that due to the Mission Shakti program, they have become self-reliant and able to resolve small problems of their families.
Principal Secretary, Housing and Urban Development Department, G. Mathivathanan delivered the welcome address while BMC Commissioner Vijay Amrita Kulange gave a vote of thanks. BMC Mayor Sulochana Das graced the occasion.