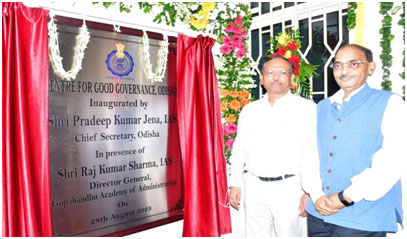 Bhubaneswar: Chief Secretary Pradeep Kumar Jena inaugurated the Office of Centre for Good Governance, Odisha (CGGO) here on 28 August.
Raj Kumar Sharma, Director General of GAA graced the occasion organized here at the premises of Gopabandhu Academy of Administration, Bhubaneswar.
CGGO will be a result based Management and Social Innovation and a Centre for Good Governance, Odisha as a permanent vertical of the Academy.
The CGGO is mandated to facilitate knowledge management contributing to good governance by conducting location specific evidence based research and facilitate training.
Speaking on the occasion in a meeting held at the conference hall of GAA after the inauguration of CGGO, the Chief Secretary Shri Jena said that the infrastructure of Gopabandhu Administrative Academy has been improved as well as new innovations have been incorporated in training modules for the IAS, OAS probationers and other officers who are undergoing training at GAA.
He stressed on the need for probationers and trainees to study more and more data on the geographical location, understanding wild life, ecology, environment and climate change issued of Odisha.
Two books published by the Gopabandhu Administrative Academy – the "Similipal Tiger Reserve" –Impressions of Study Visit of OAS Officers Trainees of the 2019 batch and a "Book Reviews by OAS Probationers along with "Academy News" of GAA and a Training Manual" were released.
DG,GAA Shri Sharma said that the Academy has always given importance to quality training.
He said that the officers undergoing the training are being trained to be value-based, principled, honest and efficient along with acquiring knowledge and maintaining honesty, fear-free and impartiality.
He informed that 3 MoUs have been recently signed with 3 various National level Institutions to further enhance and partnership in training. Additional Commissioner, GAA H B Panda, Deputy DDG and Special Secretary, GAA, Pratap Kumar Mishra, Additional Director Aradhana Das, Joint Director, Mamtarani Nayak, officials of CGGO Team and GGA were present on the occasion.