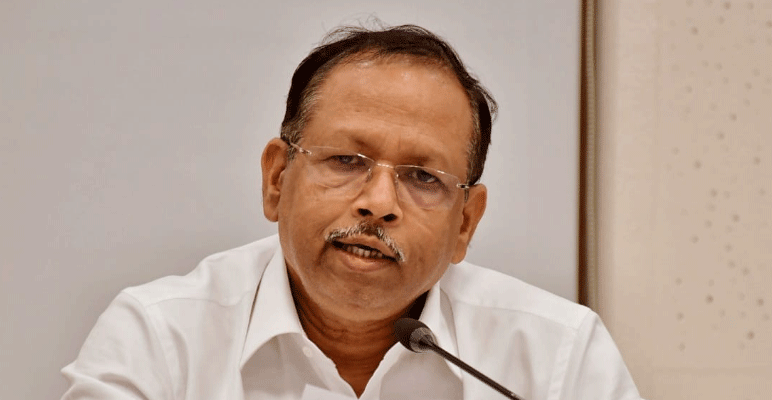 Bhubaneswar: Chief Secretary Pradeep Kumar Jena has instructed concerned heads of departments to make all kinds of preparations in the context of possible summer cyclone(s). 
He has also instructed the State Disaster Management Authority (OSDMA) to coordinate to ensure the functioning of all Tower lights at various places, including taking stock of other related equipment used during the disaster.at LokSeva Bhawan on Wednesday because of possible summer Cyclone likely to occur in the next couple of months and ensuing monsoon season.
Chief Secretary Shri Jena held a meeting on virtual mode on Pre-Cyclone Exercise-2023 preparedness. He has also directed that because of possible disaster, the Control Rooms in District, Sub-Division & Block levels should be operational round the clock and should be kept functional till the end of November. Negligence in functioning of the Control Room shall not be tolerated at all. Unlike previous years, Mock Drill on disaster preparedness shall be conducted on June 19 in all districts except Puri, due to preparations of Rath Yatra  on June 20.
The Chief Secretary has also directed the Health Department to stock adequate number of halogen tablets and bleaching powder to ensure clean and safe drinking water and treat water sources like wells, tube wells, etc aftermath of possible Cyclone.  The CS has also emphasized the need to take early steps for provision of the necessary number of generators, mobile generators, Petrol and diesel in Petrol Pumps, Water tankers and to be vigilant about the rapid restoration of water supply projects likely to be affected due to possible Cyclone. He has also instructed on the availability of snake bite precautionary injections at different medical setups.
Initiating the discussion, ACS Revenue, FE& Climate Change Department and SRC Satyabrata Sahoo said, "In May 2019, a tropical cyclone "Fani" hit Odisha. We have to prepare enough to address every possible challenge ahead. Shri Gyan Das,Director, OSDMA & Addl. Commissioner, SRC put forth in detail about the preparedness for cyclone through a PPT.
Umashankar Das, the Director, IMD, Bhubaneswar, briefed about the Status of long term weather forecast, present arrangement for dissemination of cyclone/ weather warning, Status  on Digital Cyclone Warning Dissemination Systems, Status of functioning of Doppler Weather Radar (DWR) Stations in Paradeep,  Gopalpur, Sambalpur and  Balasore. He also said that there is no Cyclogenesis over the Bay of Bengal during the next two weeks. 
In the meeting, it reveals that the emergency equipment of ODRAF is being regularly inspected and the preparations for the deployment of forces at various places are focused.  Preparedness is there in 317 Fire Services Stations and as regards to readiness by the 3rd Battalion, NDRF, 16 teams out of 17 are stationed at Munduli and 1 is at the Balasore.
Informing about disaster management preparedness, Anu Garg, Development Commissioner and ACS, Department of Water Resources said, "Managing the water reservoirs in the State is of utmost importance to us. DoWR is monitoring the situation of all the embankments and following specific Standard Operating Procedure (SOP) to deal with possible cyclones or flood situations."   
Principal Secretary, Panchayati Raj and Drinking Water, Sushil Kumar Lohani stated that additional arrangements are being made by the Department of PR & DW to provide clean water in the aftermath of possible cyclones.
Sanjay Kumar Singh, Principal Secretary, Rural Development, Energy & Information & Public Relations Department said that keeping the power supply uninterrupted during cyclones,  SOP  is also being followed by the Energy Department for this purpose.  It has also emphasized in the meeting that DISCOMs to review their action plans as regards  quick restoration of power supply in case a cyclone occurs, including their preparations  of lists for engagement of necessary manpower,  listing of equipment, materials etc. The Director (Public Health) informed all that instructions have already been issued to the Health Department set-ups regarding the pre-cyclone or flood and post-disaster measures.
Similarly, Instructions have been given to BMC and CMC authorities to repair the drains in advance, ensure the drainage system, readiness of Aska lights, cutter machines, etc. OSDMA was directed to be in close coordination with all Sarpanches and BDOs to monitor the situation of cyclones and flood shelters. The Fisheries and ARD Department was directed to take necessary steps for the disinfection of contaminated pond water aftermath of cyclone. Similarly, the heads of Departments of W&CD, Agriculture & FE have been directed to make necessary preparations in respect of their departments.
Manoj Kumar Mishra, Principal Secretary, Electronic & IT Department has informed that  provisions are there to issue necessary instructions to BSNL authorities and telecom service providers to make advance arrangements to keep the communication system operational in the event of a cyclone, standby mobile towers, SMS alerts to cell phone users, preparation of cell on wheel list and plans for pre-positioning by telecom service providers and they are in readiness in this regard.             
Among others, DGP Sunil Kumar Bansal, ADG, ODRAF, DIG, Fire Services and other Senior officers from different departments of Government participated in the discussion.