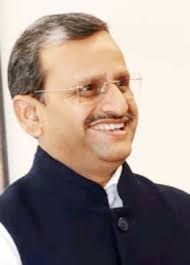 Bhubaneswar: Top Mandarin and 1986 Batch IAS Officer Suresh Chandra Mahapatra got another six months extension in his service as Chief Secretary of Odisha.    
The Union Government has extended the tenure of Mr Mahapatra by six months from 1 September, 2022.
Following the request of Chief Minister Naveen Patnaik, the Union Government has extended the service of the Chief Secretary and accordingly the Department of Personnel & Training (DoPT) has issued the notification after approval of the Competent Authority.
"I am directed to refer to Government of Odisha's DO No. UM-01/2022-18/CM dated 10.08.2022 on the above-mentioned subject and to convey the approval of the Central Government for extension in service of Shri Suresh Chandra Mahapatra, IAS (0D;1986), Chief Secretary, Government of Odisha for a period of six months from 01.09.2022 to 28.02.2023 in relaxation of Rule 16(1) of the AIS(DCRB) Rules, 1958, by invoking Rule 3 of AIS(CS-RM) Rules, 1960," read the DoPT notification signed by Kuldeep Chaudhary, Under Secretary to Government of India.
Mr.Mohapatra took charge as 44th Chief Secretary of Odisha on 1 January 2021. He was the Development Commissioner of Odisha prior to his appointment.
He was supposed to retire from services on February 28, 2022, but his tenure has been extended for six months. So, for the second time, Mr. Mahapatra's tenure was extended.
Born at Kansar village in Deogarh district in 1962, Mr.Mohapatra belongs to Keonjhar district.
He passed matriculation from DN High School Keonjhar, B Sc. from Ravenshaw college in 1982 and MSc Tech Applied Geology from ISM Dhanbad in 1985.
Joined IAS in 1986 after a brief stint in ONGC. After probation in Sambalpur district he was posted as Sub collector Nuapada in Kalahandi district for 2 years from 1988 to 1990.
Then he served as ADM Puri followed by PD DRDA Balasore and Mayurbhanj districts between 1990 to 1993. Mr.Mohapatra joined as first District Collector of newly formed Bhadrak district in 1993 after the Riots.
During serious Kandhamal riots the then Chief Minister Biju Pattnaik posted him as District Collector Kandhamal to manage the riots, which he handled efficiently.
With his earlier experience in handling Kandhamal riots, he was sent to Kandhamal in 2007 and 2008 by the Chief Minister Naveen Patnaik. After field visits, his observations counted much in solving the critical impasse in the Tribal Zone.
During Naba Kalebar of Trinity in 1996, he was posted as District Collector Puri, and removed encroachment around Meghanad Pacheriand conducted Naba Kalebar smoothly.
Mr.Mohapatra took the leadership of OMFED, the Major Milk Federation of the State for about 6 years as its Managing Director. He scaled up the activities of OMFED in a big way and developed many new products looking at the requirements of the customers.
He was entrusted with the responsibility of CEO, CESU after the power company AES left suddenly. Then after he led GRIDCO as CMD for 3 years, became RDC Cuttack for 2 years.
As Principal Secretary Energy, he brought reforms in the sector and has been able to improve the performance of the sector.
He was appointed as Chief Administrator of Shree jagannath Temple Administration (SJTA) and took up lot of innovations in temple and organized training and learning visit of the servitors
An ardent devotee of Lord Jagannath, Mr.Mohapatra was again posted as Chief Administrator of Puri temple in 2015 for the second time during which he conducted Naba Kalebar of the Trinity successfully
He also served as Principal Secretary in the Water Resources Department and scaled up activities in a big way. During this time Mr.Mohapatra very successfully started the trend setting innovative schemes like mega lift, deep bore well, check dams.
As Additional Chief Secretary Forest and Environment he developed Eco Tourism Assets and popularized the Product both among domestic and international arena.
Because of the success and potential, Eco Tourism Projects were replicated and up-scaled in successive years.
As Additional Chief Secretary and Development Commissioner, as well as Working Chairman of Shree Jagannath Temple Management Committee, he has served the State well.
Known as an honest mandarin and quiet performer, Mr.Mohapatra also played a pivotal role to lead the State Bureaucracy during Covid-19 pandemic and Post-pandemic period.
Happy with his performance State Government requested for another extension of six months, which Union Government approved it.