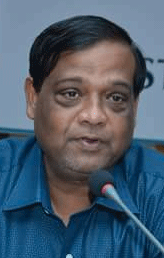 Bhubaneswar: Giving a sigh of relief to the people of Odisha who are in scare due prevailing Covid-19 situation, Director of Institute of Life Science (ILS) Ajay Parida on Monday said the viral load in current Covid 19 infection cases has decreased substantially compared to the cases reported during peak.
Revealing latest survey data, Dr.Parida said the Cycle Threshold (CT) value in the Covid-19 RT-PCR test reports had earlier stood at 14-15 per cent, which has now increased up to 28 per cent. The lower the CT value, the higher the viral load and the higher CT values means low viral load.
As per Indian Council for Medical Research (ICMR), all patients with a CT value less than 35 may be considered as 'Positive' while those with a CT value above 35 may be considered as 'Negative'.
The ILS Director informed that not only children but also people from other age groups may get infected in the possible 'Third Wave' of the Covid-19. However, there is no concrete information available still now about the possible 'Third Wave', he said.
The possibility or infection rate of another wave of Covid-19 is dependent on the human behaviour, vaccination and mutation of the virus, which is an ongoing process, Dr.Parida stated.
He further informed that genome sequencing of the Corona virus is being carried out at 28 laboratories in different States. The result may ascertain the nature of the strain and its consequences, he added.
As the daily positive cases have come down to below 5,000 now, the senior public health expert opinions in favour of a gradual unlock process in Odisha.
On Monday, Odisha reported 4339 fresh Covid cases and 44 fatalities. The Covid-19 active case tally now stands at 55,923 active cases in the State. So far, 79, 6799 patients have recovered in the state, including 7733 new recoveries.
The total death cases in the State stands at 3346.