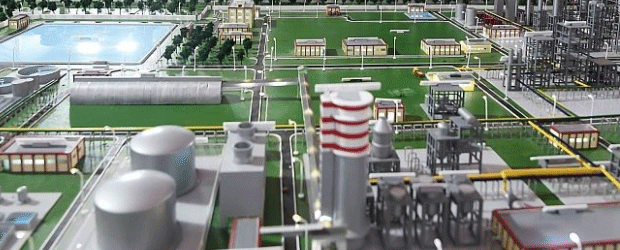 Bhubaneswar: Covid-19 Pandemic has hit the ambitious Talcher Fertilizer Project badly and with the experts is talking about fourth wave Covidvirus, senior officials are more worried about the revival of the mega plant of the Talcher Fertilizers Limited (TFL).
Prime Minister NarendraModi laid foundation stone of the massive project on 22 September 2018 and it was expected that in next 3 years the project will be commissioned. However not only the project is being delayed but also project cost is scaling up with inordinate delays.
And Covid-19 Pandemic has hit the project in a bad way as the Talcher Fertilizer Plant's Lump Sum Term Key (LSTK) Contract was awarded to WuhuanEngineering Company Limitedbased at Wuhan City, China in September, 2019.
Wuhan, the epicenter of Covid-19 Pandemic and due to enforcement of stringent lockdown and associated travel restrictions from December 2019 till February 2022 as three waves of Covid hit China and India. So the Pandemic has hit the project badly, officials admit.
Accordingly the Project activities came to a virtual standstill during these period and scheduled completion time is not being adhered. Looking at the restrictions and lock down it was scheduled to be commissioned by September 2023. Now authorities have set likely date of September, 2024 for commissioning.
However with Fourth Wave of Covid Virus looming large and experts are advising to take care, the Mega Project is likely to be delayed for more time and authorities are now more worried about it.
Union Government mandated for revival of Talcher Fertilizer Plant by forming a Joint Venture named Talcher Fertilizers Limited with equity from Gas Authority of India Limited (GAIL), Rashtriya Chemicals & Fertilizers (RCF) and Coal India Limited (CIL).
While original Project Cost was Rs.11,611Crore, now it has scaled up to Rs.13,277 Crore. This project is based on Coal Gasification Technology.
Talcher Fertilizer Plant capacity is 2200 Metric Ton Per Day (MTPD) Ammonia and 3850 MTPD Urea. This is a Mega Plant with annual Production of 12.7 Lakh Metric Ton of PrilledNeem Coated Urea.
This Fertilizer Plant would provide 2000 job opportunities both direct and indirect manner. The Plant is being set up to cater to the Urea requirement of Odisha and other Eastern States.
Talcher Fertilizer Plant was also to help to develop Small and Medium Scale Industries around the manufacturing unit. It was expected that MSME sector will get boost and entrepreneurship activities around the Fertilizer Hub and it will further boost employment opportunities,
Financial Experts also visualized boost of economic activities in the region with enhanced revenue growth for the State Exchequer by way of Direct Taxes due to increased activities in service sector, especially Hospitality, Travel Sector, Transportation, Health Care, Insurance and Financial Markets.
Prime Minister NarendraModi through the project wanted to make the country self-reliant in Urea Fertilizer and saving foreign exchange out due to reduced import, official say.