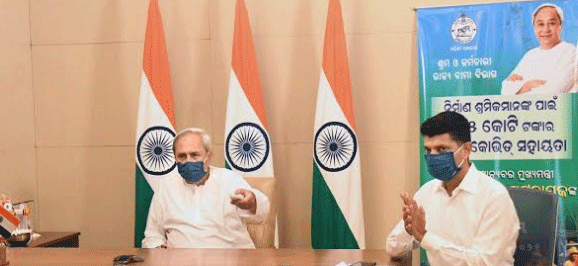 Bhubaneswar: The poor have every right to live with dignity and no one can deprive them of their rights, Chief Minister Naveen Patnaik said on Thursday.
This was stated by Patnaik at a function organized by video conferencing to disburse Covid assistance to the construction workers here.
Under this package, each registered construction worker received Rs 1,500. Last year, during the first wave of Covida, construction workers were paid Rs 1,500.
The Chief Minister said that the Covid relief to the construction workers will help alleviate their plight.
The Chief Minister said that the economy can never prosper without the welfare of the workers.
"They forget their happiness for the benefit of others. Every worker is 'Biswakarma'. He builds large buildings with his back to the heat. Burning itself shows light to others. He builds a good house, roads and bridges, etc for others. Every page of development has stories of the sacrifices and hard work of our construction workers," he said adding, "Only by respecting the sacrifices of the poor can we connect everyone with development."
The construction workers expressed their deep gratitude to the Chief Minister for his help.
Rabindra Pradhan of Ganjam, Navagan Parida of Cuttack, Keshab Pradhan of Bargarh, Renu Minj of Sundargarh complimented the Chief Minister saying, "Thank you Chief Minister Ajna (Sir)'. Your help has helped us survive this crisis. Last year we got Rs 1,500, this year too."
They also told the chief minister that he was always helping children with their lessons, bicycles and girls outdoors. The chief minister also asked them how much money they had received.
Attending the function, Minister for Labor and ESI, Rural Development Minister Sushant Singh highlighted the various steps being taken by the state government for construction workers, the implementation of the labor law and citizens central scheme.
Chairman, Odisha Building and Other Construction Workers Welfare Board Ramesh Chandra Chaupattinayak said that 32 schemes are being implemented for construction workers under the board and all these services are being provided efficiently through five.
Brajrajnagar MLA Kishore Mohanty and Begunia MLA Rajendra Sahu expressed their views and lauded the Chief Minister's leadership for this poor and workers welfare scheme.
Chief Minister's Secretary 5-T VK Pandian conducted the programme.
Principal Secretary Labor & ESI Chitra Arumugam delivered the welcome address and thanked the Labor Commissioner.
Chief Secretary Suresh Chandra Mahapatra, Development Commissioner PK Jena and other senior officials were present.
Construction workers from 314 Blocks across the state participated in the event through video conferencing.