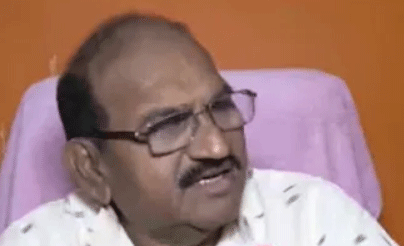 Bhubaneswar: Strongly reacting to BJD's protest against him, senior BJP MLA and Leader of Opposition Jainarayan Mishra on Thursday alleged that BJD Government has made a conspiracy to kill him.
Notably, demanding resignation of Shri Mishra from LoP post, the Governing Biju Janata Dal (BJD) today held demonstrations in Bhubaneswar, Sambalpur and other places. During the agitation, the BJD workers barged into Sambalpur Circuit House, where Shri Mishra is a frequent visitor.
Speaking to media persons, Shri Mishra said, "A Cabinet Minister is not safe in Odisha. Some professional goons and anti-socials went to the Circuit House during the protest and ransacked it. Circuit House is a place where important personalities are staying. If such a place is also not safe in Odisha, how will common citizens feel safe in the State?"
"As I am continuously exposing the State Government on Minister Naba Das's murder case, a conspiracy was made by the Government to eliminate me," he alleged.
He further alleged that a conspiracy has been made to kill him through police like Minister Naba Das.
Attacking the BJD Government over prevailing law and order conditions, he said, "We all have seen murder of a Minister by police, triple murder happened in Mahanga, Mamita Meher murder case and Nayagarh Pari murder case. The law and order situation has totally collapsed in the State and no one is safe in Odisha."
Commenting on the probe into Naba Das murder case, the senior BJP lawmaker said, "It is not a judicial probe. The Government is hoodwinking the people. I have raised this earlier too. That's why they want to kill me."
Elaborating about yesterday's incident, he said, "When I could not recognize the lady IIC of Dhanupali police station. I asked for her identity. Following which a war of words surfaced. Then, she put her feet on my leg. In protest of such an act, I pushed her."
According to Shri Mishra, he was staying at Circuit House for the past several days after suffering a fracture in his leg.
"On getting information, BJD goons had visited the spot and ransacked the Circuit House. Had I been there, one can easily imagine what could have happened to me," Shri Mishra said.
The LoP further said that instead of going after him, the BJD goons should ask Chief Minister Naveen Patnaik to take action against him. "I will move to the people of Sambalpur and Odisha, who are my masters. Except God and my people, I don't care about anybody," Mishra said.