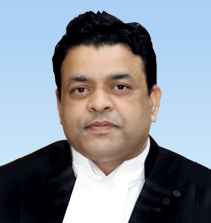 Cuttack: National Law University Odisha, Cuttack in collaboration with International Union against Tuberculosis and Lung Disease held an online national consultation on COTPA Amendment Bill, 2020 which is in pre-legislative phase and open for public comments. 
The event was graced by Justice Sanjeeb Kumar Panigrahi, Judge High Court of Orissa as the Chief Guest.
Justice Panigrahi opened the discussion by taking the participants through the history of tobacco regulation in India.
He appreciated the proposal to increase the age of smoking to 21 years old from the current 18 years old and acknowledged that the amendments would help in aligning the COTPA 2003 with the Framework Convention on Tobacco Control.
However, he was sceptical about the problem of smuggling of tobacco and that illicit trade has not been properly defined in the Bill.
Prof. (Dr.) Yogesh Pratap Singh, Vice Chancellor , NLUO, Prof. (Dr.) Srikrishna Deva Rao, Vice-Chancellor, NLU Delhi, Dr. Rana J Singh, Executive Director, The Union, South East Asia Office New Delhi, Dr. Monika Arora, Director, Health Protection Division, Public Health Foundation of India, New Delhi, Dr. Amit Yadav, Sr. Technical Advisor Tobacco Control, The Union, South East Asia Office New Delhi, Dr. Meenakshi Sachidhanandam, Expert Public Health Law and Nandita Batra, Assistant Professor of Law and faculty of Public Health Law at NLUO were present.
Dr. Rana J Singh suggested that the need of hour is concerted efforts by various stakeholders including synergy between the 10 ministries that control various aspects of the tobacco industry.
Dr. Monika Arora suggested that India can consider going to plain packages or single dull colour packages for tobacco products to make it less appealing. She laid emphasis on the need to regulate advertisement of tobacco products on OTT platforms which primarily target the youth.
Dr. Meenakshi Sachidhanandan elucidated on the harmful effects of tobacco on the consumer, second hand smokers and the environment. She also busted a number of myths about medicinal value of tobacco.
Dr. Amit Yadav was hopeful that the draft amendment would address the use of tobacco. He additionally suggested that the Government of India needs to mull out a scheme to stop indirect support investment to tobacco companies through various investment schemes and grants and instead use this money on public healthcare infrastructure and facilities.
He also cautioned against the misuse of Corporate Social Responsibility provisions that have enabled surrogate advertisement by tobacco companies.
He proposed that companies should be obligated to pay this 2 percent amount to schemes or funds created by the Ministry of Health.
Ms.Nandita Batra used the state wise NCRB data 2019 to show that COTPA Act 2003 has not been uniformly implemented. Many states, including Orissa, have zero cases under the Act whereas southern states are on the higher side.
She emphasized on the proper implementation of the Act and urged to rethink on liability provisions under the Bill as they do not differentiate between distributor, wholesaler and retailer.