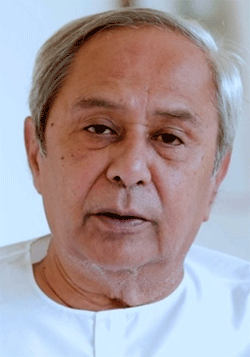 Bhubaneswar: As Odisha has witnessed cyclones in summer season in recent years, Chief Minister Naveen Patnaik on Tuesday held a review meeting with senior officials of concerned departments about the preparedness made to deal with possible summer cyclones in the state.
Shri Patnaik held the meeting in the wake of IMD's prediction that a cyclonic circulation is likely to develop over the southeast Bay of Bengal around May 6. It will convert into a low pressure area during the subsequent 48 hours.
Reviewing the situation, the Chief Minister directed the officials to remain alert. Reminding about the cyclonic storm Fani, he asked the officials to make all preparations in advance to counter the possible summer cyclone.
The Chief Minister said the assessment of the cyclone which comes in summer is very difficult. In 2019, Fani cyclonic storm which hit the state had caused widespread damages in the State.
So, he advised all departments of the State Government, NDRF, ODAF and Fire Service to remain alert in advance and be ready to evacuate people residing near the coast and in low lying areas to cyclone shelters for their safety.
The Chief Minister also advised officials to stock required medicines and equipment in advance and to chalk out plans in advance to carry out the rescue, rehabilitation and relief operation.
The Chief Secretary was asked to review the situation regularly and the SRC has been directed to keep a strict vigil on the situation and to work in coordination with all departments concerned.
Chief Secretary P K Jena said since the summer cyclone has the maximum impact, the Government has successfully followed zero causality policy during the last few years.
He said regular review is being conducted and all departments and Collectors have been directed to remain alert. Around 1000 cyclone shelters are kept ready. In addition to it schools and other safe shelters have also been identified.
Speaking to media persons after the meeting, SRC Satyabrata Sahu said the summer cyclones are always unpredictable. However, there is no need to panic as all measures are being taken to deal with any situation as May month is prone to cyclones, he said.
Even though IMD has not issued any forecast, the Chief Minister has reviewed the situation today and the state is fully prepared to deal with any emerging situation.
Shri Sahu said the India Meteorological Department (IMD) has informed that a cyclonic circulation is likely to develop over southeast Bay of Bengal around May 6. Under its influence, a low pressure system is likely to form during the subsequent 48 hours.
"We are not concerned about forecasts by other models. Rather, we are following the IMD forecast, which is yet to make any forecast regarding cyclone" said the SRC, adding that the IMD always issues forecasts on a detailed micro-planning basis.
"Several cyclones have been formed in the Bay of Bengal in the past including Fani in 2019, Amphan in 2020 and Yaas in 2021. Already, state-level and district-level control rooms have been set up in Odisha and the situation is being closely monitored even though no cyclone forecast has been issued by IMD as of now," he informed.
Shri Sahu said round-the-clock control rooms have been set up after holding discussions with Collectors of 18 districts. As many as 17 NDRF and 20 ODRAF teams have been kept ready for the possible cyclone, he said.
He further informed that Odisha has already conducted several meetings in the past and NDRF, ODRAF and other departments have been asked to take necessary steps to deal with any summer cyclones.