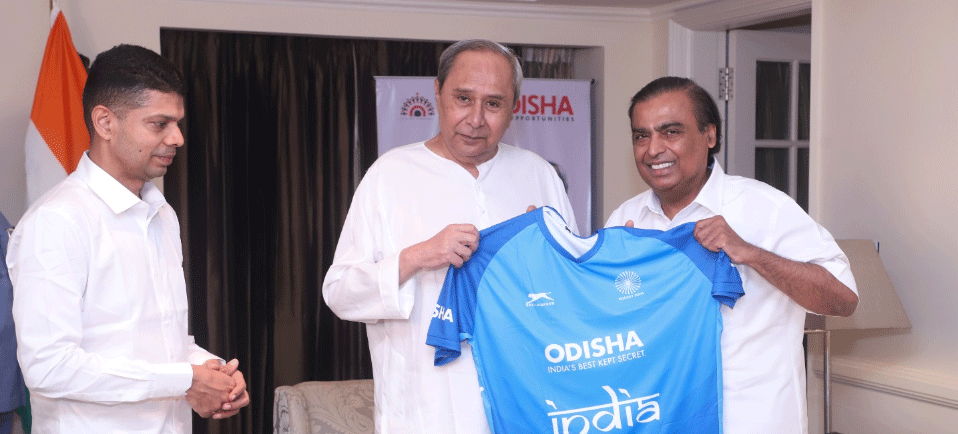 Mumbai: Chief Minister Naveen Patnaik on Monday met Mukesh Ambani, Chairman & Managing Director of Reliance Industries Ltd here.
Shri and Shri Ambani discussed the investment opportunities in Odisha. Secretary to CM V K Pandian was also present.
Shri Ambani appreciated the progressive governance model, stable political leadership and development of a  conducive ecosystem to attract investments.
He also expressed interest in exploring the potential for investing in the Green Energy and minerals sector in Odisha.
Further, Shri Ambani applauded Odisha for being a welfare focused state while being fiscally responsible and expressed his desire to partner in education, health and skill development.
Shri Patnaik thanked the Reliance Group chief for his interest in investing and partnering in Odisha's development journey. The CM also assured that the State Government will provide all the support and facilitation to the Reliance Group.
The Chief Minister was leading a high-level delegation from the Government of Odisha to Mumbai and conducted one-on-one Business meetings with several other industrial captains.
Shri Patnaik met prominent industry captains and discussed the potential business opportunities and avenues of strategic partnerships in Odisha. The industry representatives also discussed their future investment and expansion plans in the state.
Riding on the massive success of Odisha's Flagship Investment Summit, Make in Odisha (MIO) Conclave 2022 conducted from 30 Nov to 4 Dec 2022, the Government of Odisha is keen on attracting new investments in emerging sectors, and at the same time ensuring necessary support and facilitation for the incoming investments in the state, Patnaik said.
Further impressing on the State Government's commitment, the Chief Minister said, "I am pleased to visit Mumbai and be amongst the most prominent and entrepreneurial businessmen and women in the country. Prior to MIO Conclave 2022, we were here to invite the business community for the conclave, and I am thankful for the heartfelt participation of all the industry captains."
In Odisha's transformational journey, the State looks forward to receiving continued interest from our industry friends from Maharashtra, he said.
Mumbai being the financial hub of India, Shri Patnaik said his government has high hopes to partner them in a phenomenal growth story.
"I would like to reinforce the fact that Odisha is now ready to become a major industrial hub in India, by mastering the art of harmonizing economic prosperity with inclusive growth. Come, Join the Juggernaut," Shri Patnaik added.

Principal Secretary Industries Hemant Sharma coordinated the entire arrangments.