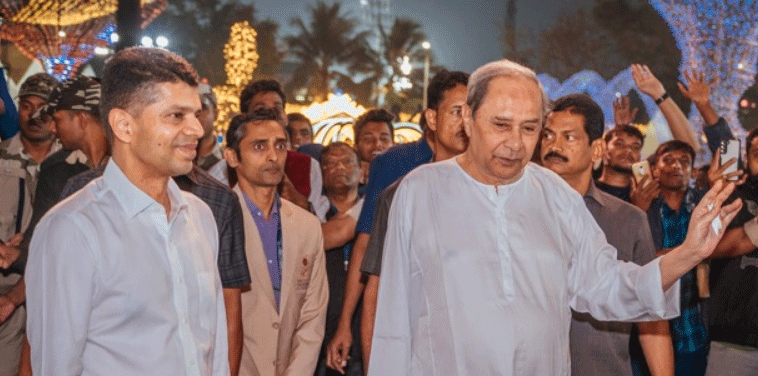 Bhubaneswar: To take the Hockey World Cup fervour to across the state, fans are in for a treat at the Olly Land. Designed beautifully, the fan parks light up the night with spectacular lighting installations for picturesque photographs, eateries for people to enjoy cuisines from across Odisha, and tons of activities for all to participate in!
The zones are a highlight for fans to come celebrate hockey in a larger-than-life way.
Fans, be it young or old had their eyes beaming with excitement. From taking selfies with Olly, the official mascot for the FIH Men's Hockey World Cup 2023, in groups, visitors were soaking in all the fun at Olly's Land. The fan parks feature food stalls, festivity, and frolic for all those in attendance.

The zone is lit up with spectacular lighting installations to fill the space with a sense of wonder and mysticism. The fan park serves as a place to create unforgettable memories and celebrate as hockey comes home to Odisha.

Chief Minister, Naveen Patnaik, also graced the Olly's Land at the Kalinga Stadium on Thursday. Secretary to CM V K Pandian accompanied CM.
CM was welcomed with a rousing reception with hundreds of fans keen to catch a glimpse of their leader. The Chief Minister waved to the fans and shook hands with young kids who had come to Olly's Land to participate in the hockey fever which has gripped the entire state.
Fans will have an unforgettable experience encapsulating the true spirit of hockey at Olly's Land.

A mesmerising world built with the electrifying atmosphere on the occasion of the 2023 Hockey World Cup. These are situated in Bhubaneshwar, Rourkela, and Puri Beach respectively.

Olly is a representation of the critically endangered olive ridley sea turtle, which travels thousands of kilometres in the ocean. It is both the smallest and most prevalent marine turtle in the world.
The Olly mascot promotes awareness for Olive Ridley while also encouraging fair play and the growth of sportsmanship from a game standpoint.