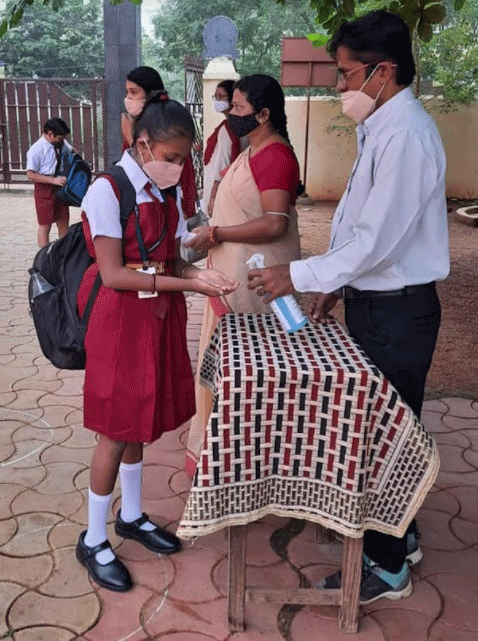 Bhubaneswar: After a gap of around 18 months, physical teaching for Class VI and VII students resumed in the State on Monday at 9.30 AM. The schools were closed down for an indefinite period due to outbreak of Covid-19 pandemic in the State.
As per the announcement by the State Government, schools reopened for the Class VI and VII students strictly following COvid-19 guidelines and Standard Operating Procedure (SOP) prepared by the School and Mass Education Department.
The teaching hour for the students started at sharp 9.30 AM and will continue till 1 PM. The classes will continue on all days excluding Sundays and public holidays. There will be no recession or lunch hour.
The classrooms have been sanitized prior to the reopening of the Class VI and VII students. Students and teachers have followed Covid-19 guidelines including the use of thermal scanning, mask, and hand sanitization in the schools.
At many places, schools have adopted murals with awareness messages to spread alertness among the children on the virus. While entering into the schools, the students have seen submitting NOC from their parents to attend classroom teaching.
All students, wearing masks and holding hand sanitizers, were seen entering their schools with smiling faces. The students expressed happiness over the reopening of the schools.
Seating arrangements of students have been made in such a way that each student maintains social distance from each other. Now, teaching for Class VIII and XII students is going on in the schools across Odisha.
"After doing thermal scanning and ensuring wearing masks, students have been allowed to school. Proper awareness is being made for the students. After completion of teaching, they will be allowed to go home at 1 PM," said a teacher of Capital High School here.
In case it was found that some student has high temperature or any other Covid like symptoms, he/she will be sent to an isolation room and local administration will be informed to take necessary steps, he said.
"Physical teaching has no alternative. It's easier to understand any subject while doing physical classes than online. I am feeling happy to attend the class and to meet friends and teachers," said a student of Unit-III Saraswati Sishu Vidyamandir of Bhubaneswar.
In view of the onset of the Covid-19 pandemic, the classroom teaching of the Class VI and VII students has been suspended since March 2020.
The students are allowed to attend the classes either online mode or offline mode in consultation with their parents. Attendance is not mandatory for students in offline mode, sources said.