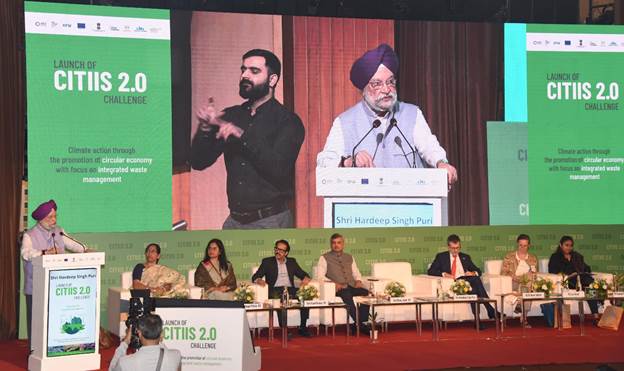 New Delhi: "CITIIS 2.0 will complement the Smart Cities Mission and converge with the Swachh Bharat Mission to enable innovation throughout the value chain of waste management in our cities", said Hardeep Singh Puri, Minister of Housing & Urban Affairs and Petroleum & Natural Gas.
Speaking at the launch of CITIIS 2.0 Challenge, he noted that the programme also aims to tie up with the Gobar Dhan mission to generate bio-fuels from organic waste.
He urged all 100 Smart Cities under the Smart Cities Mission to apply for the challenge and assured them of the full support and guidance of the Ministry of Housing and Urban Affairs.
CITIIS 2.0 was approved by the Union Cabinet, chaired by the Prime Minister Narendra Modi, on 31 May 2023. The CITIIS 2.0 Challenge was launched by Union Minister Shri Puri here on 16 November 2023.
Hervé Delphin, Ambassador of the European Union to India, and Manoj Joshi, Secretary, Ministry of Housing and Urban Affairs (MoHUA) also attended the event.
The Minister thanked the international partners who have supported the CITIIS programme and the Smart Cities Mission.
The total funding for CITIIS 2.0 includes a loan of Rs. 1,760 crores, or EUR 200 million, from AFD and KfW (EUR 100 million each).
The programme will also receive a technical assistance grant of Rs. 106 crores (EUR 12 million) from the EU.