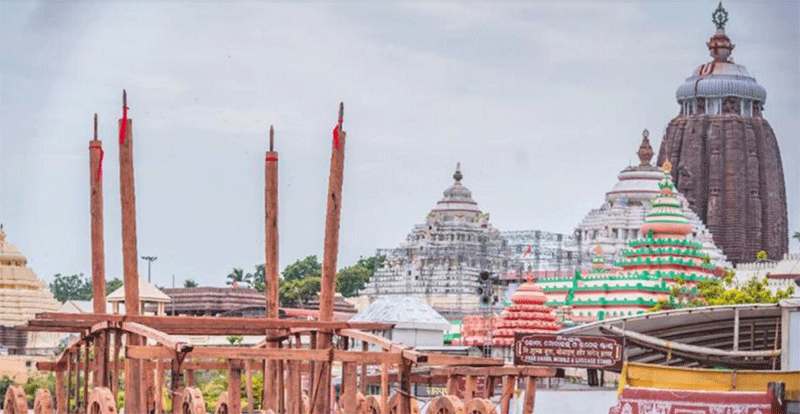 Puri: Nearly a week ahead of the schedule, servitor groups engaged in construction of chariots for the three deities in Srimandir in Puri have installed 'Chari Nahaka', the four pillar-frames which rise from the base of the chariot and support its entire dome.
It is very pleasant news for the Lord Jagannath devotees that the 'Chari Nahaka' work completed eight days before the Snana Purnima ritual of Lord Jagannath in Puri.
"Fixing of Kantaa in the Pancha Dandaa, fitting of Garagara and fixing of 4 Nahaka in the chariots are completed. The making of 4 Potala Khambi, 2 Saala and 7 Jokha for Prathama Bhuin of the chariots are also done," Shree Jagannath Temple Administration (SJTA) said in a tweet.
Snana Purnima is the first major ritual of the month-long Rath Jatra festivities and as per tradition, on this occasion, the most important part of construction of chariots takes place in the form of installation of the 'Chari Nahaka'.
However, this year, due to the fast work by Maharana Sevayats and proper supervision of temple administration headed by Dr. Krishan Kumar, the chariot construction works are moving ahead of schedule.
In view of the Covid-19, the SJTA has created a bio-bubble at Ratha Khala, the workplace where the construction of the chariots is going on, to ensure a secure and Covid-free environment for the carpenters.
Like last year, the annual Rath Jatra to be conducted in Jagannath Temple Puri without devotees and imposition of curfew in the city due to the ongoing Covid-19 pandemic. The Rath Jatra is scheduled to be held on July 12 this year.
The State Government has decided to conduct the Rath Jatra this year in Puri only following Covid norms and Supreme Court instructions. No other temple in Odisha can organise the festival this year.
As per the Supreme Court's guidelines, maximum 500 persons will be allowed to pull each chariot during the festival.
Pulling of the chariots will be performed by Sevayats, Police personnel or any other officials as permitted by the temple administration. All such persons must have been vaccinated with two doses or have tested negative in RT-PCR tests done within 48 hours prior to Ratha Jatra.