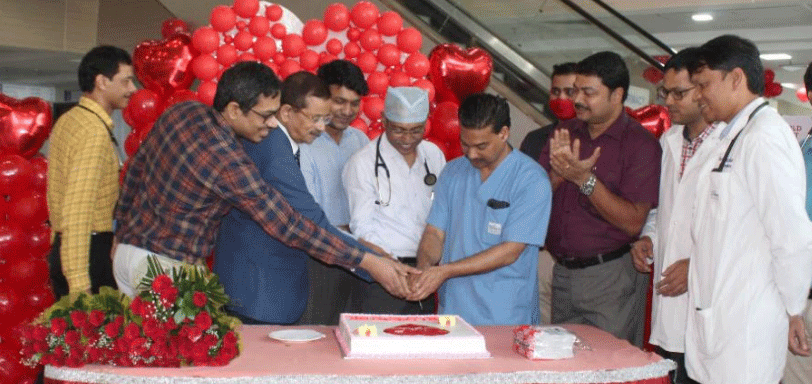 Bhubaneswar: Lifestyle changes and stress management are the keys to avoiding cardiac problems in the aftermath of the Covid-19 pandemic which had derailed human physiological system in many cases, cardiologists said on World Heart Day on Thursday.
"A self-centred man is bound to be stressful. Stress management is crucial and an inclusive attitude towards life can make matters easier," Dr. Bana Bihari Mishra, Senior Consultant, Cardio Vascular and Thoracic Surgery at SUM Ultimate Medicare (SUMUM) here, said while making a presentation on the occasion.
Dr. Mishra said Covid-19 had caused deaths and adversely affected the health of people who were found to have become prone to suffer from blood clots. "People need to be careful about food intake and avoid a sedentary lifestyle," he said while recommending at least 30 to 45 minutes of walk every day.
Dr. Sarat Kumar Sahu, Senior Consultant, and Head of the Department of Cardiology, in the hospital, also focused on a balanced diet, regular exercise and the need to avoid stress.
Dr. Sahu said keeping the sugar level down and the blood pressure under control was important while ensuring that the process of deposit of cholesterol in the blood vessels was slowed down.
Speaking about new advances made in cardiac science, he said the lesser invasive transcatheter treatment of structural heart diseases was becoming popular amidst the explosion of innovative devices and concepts in recent times.
Dr. Mishra said the cardiology department of SUM Ultimate Medicare, which was fully equipped with advanced instruments and trained manpower, was planning to set up valve clinic, coronary clinic, heart failure clinic, pediatric clinic and arrhythmia clinic. Besides, setting up of Pediatric Cardiac Surgery and Robotic Cardiac Surgery units was in the pipeline as also taking up of heart and lung transplant surgery.
Dr. Vibhutendra Mohanty, Senior Consultant, Interventional Cardiologist, said heart attack was responsible for the maximum number of deaths in the world, with 60 per cent of the cardiac patients being in India.
Dr. Mohanty said we should ignore no symptom of cardiac failure, as one-third of the heart patients failed to reach the hospital in time. "Even a completely normal ECG report cannot rule out a heart attack," he said.
The program was attended by Prof. D.P.Ray, Chancellor of SOA, Prof. Ashok Kumar Mahapatra, Vice-Chancellor of SOA, Prof. Manjula Das, Comptroller of Examination, Dr. Banambar Ray, Head of Department, Critical Care, SUMUM, Prof. Pusparaj Samantasinhar, Medical Superintendent, IMS and SUM Hospital, Prof. Anup Samantaray, Dean, SOA's faculty of management sciences, Prof. Neeta Mohanty, Dean, Faculty of Dental Sciences, Prof. Pravati Tripathy, Dean, faculty of nursing and Prof. Jyoti Ranjan Das, Dean, Students' Welfare.
Brig. (Dr.) Biraj Mohan Mishra, Chief of Medical Services, SUMUM and Dr. Anand Mishra, Deputy Medical Superintendent, SUMUM, also spoke during the program. Earlier in the day a cake-cutting ceremony was organised in the presence of CMS Brig. (Dr.) Biraj Mohan Mishra, Consultants of Department of Cardiac Sciences, HODs, patient attendants and employees of SUMUM.