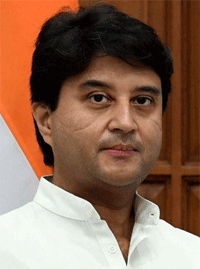 New Delhi: The Union Civil Aviation Minister Jyotiraditya Scindia has informed that Code 4C operation is not feasible at Rourkela airport within the available land.
Mr.Scindia made this statement in Rajya Sabha while giving a reply to a question of BJD MP Amar Patnaik. Few days ago, Patnaik had also written a letter to the Civil Aviation Minister demanding a 4C license to the Rourkela airport.
Rourkela airport is owned by Steel Authority of India Ltd. (SAIL) and is operated by SAIL as per the Memorandum of Understanding (MoU) signed with Airports Authority of India (AAI). Currently, the airport is licensed for Aerodrome Reference 2B operations (suitable for 20 seater type of aircraft), Scindia said.
The Government of India has approved a Scheme Revival/upgradation of Airports/Heliports/Water aerodromes to support Regional Connectivity Scheme-UDAN. Several airports included in the awarded UDAN routes are upgraded/developed under this scheme, he said.
Based on the bids received under UDAN (Ude Desh Ka Aam Nagrik) Scheme with ATR-72 type of aircraft, AAI, the implementing agency, has undertaken upgradation of the airports for Code 3C (suitable for ATR type of aircraft) operations.
SAIL, Rourkela has accorded permission to use 146 acres of land for development of the Airport to Code 3C Instrument Flight Rules (IFR) category.
The Union Minister informed that the Rourkela airport was identified for operations of RCS flights connecting Rourkela with Kolkata and Bhubaneswar in the first round of bidding under UDAN. Later, the said routes were cancelled due to non-compliance of the Agreement by the Selected Airline Operator (SAO).
Subsequently, in December, 2018, the AAI received a bid in the third round of UDAN bidding for 'Bhubaneswar-Rourkela-Bhubaneswar' route with ATR72 type Aircraft.
The SAOs under UDAN are obligated to commence RCS flight operations on a RCS route within a period of six months from the issuance of Letter of Award or within two months from the readiness of airport, whichever is later, unless any extension is granted by the Implementing Agency.
At present, 1349 feet of existing serviceable runway is not discarded at Rourkela airport for ATR 72 type of aircraft operations under Visual Flight Rules (VFR) conditions, he further informed.