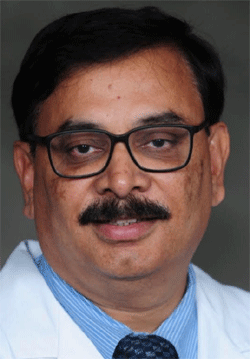 Bhubaneswar:In partial modification in Central teams being deployed in Odisha and Arunachal Pradesh to aid these  two states in their efforts for management of COVID-19, the Union Ministry of Health and Family Welfare has appointed Dr. Prashant Raghab Mohapatra, Professor in Bhubaneswar AIIMS as the clinician member of the team for Odisha.
Such multi-disciplinary Central teams are being sent to six states – Arunachal Pradesh, Manipur, Tripura, Odisha, Chhatisgarh and Kerala in view of the large number of COVID-19 cases being reported there.
Teams for each state comprise of a public health expert and a clinician. In the Odisha team Dr. Shibani Dutta, Professor, Public Health, AIIH&PH, Kolkata is the public health expert, while a noted pulmonologist of the country Dr. Prasanta Raghab Mohapatra, now a Professor in AIIMS, Bhubaneswar, is the clinician member.
A notification from the Disaster Management Cell of the Union Ministry of Health & Family Welfare said these teams would specifically look at areas of testing, contact tracing, including surveillance, containment operations, COVID appropriate behaviors, availability of hospital beds, sufficient logistics including ambulances, & hospital wise case fatality analysis and COVID-19 vaccination progress.
"These teams will assess the situation, suggest remedial actions and report every evening by 7 PM on the public health activities being undertaken to coronacontrolroom@gmail.com besides submitting the same to the State government," said the Director Public Health in the Union Health Ministry.
He asked the Central teams to depart latest by 2nd July, 2021 and requested all institutional heads to ensure that the team members are relieved accordingly. Team's deployment shall be coordinated by Senior Regional Directors, RoHFW, Ministry of Health & Family Welfare of respective States, he said.
It is pertinent to mention here that as the number of covid-19 positive cases is not receding despite rigorous efforts being made by these state governments, Centre has decided to deploy multidisciplinary teams to assist these states in their efforts to contain the spread of the dreaded virus.