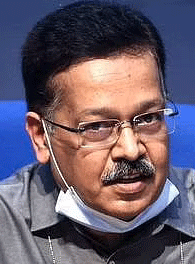 Bhubaneswar: As few pockets in Odisha continue to report high numbers of Covid cases, Union Health Secretary Rajesh Bhushan has advised the State Government to take some measures to control it.
In a letter to Chief Secretary Suresh Chandra Mahapatra, Bhushan said Odisha has a low fatality rate of less than 0.46 per cent. However, three districts (Balasore, Nuapada and Dhenkanal) are reporting weekly positivity of more than 10 % (28th June to 4th July).
Though the State positivity is consistently decreasing and has reported positivity of 5.36% for the week ending July 4. The district of Nuapada has shown a significant increase in positivity over the last week, he pointed out.
Although the cases have shown a continuous decline since the past four weeks, five districts (Balasore, Cuttack, Jagatsinghpur, Kendrapara, and Khurda) have shown an increase in the week ending July 4 when compared with the previous week.
He suggested the Mahapatra to take strict containment measures and implement them stringently.
"Strengthen all efforts made for prompt contact tracing of the close contacts of positive cases and immediate quarantine /isolation of all suspected and confirmed cases," the Union Secretary suggested.
Urging to ramp up testing, the Bhushan said that several districts are reporting high positivity rates, which reflects the level of widespread infection. The state government asked to aim at maintaining TPR below 5 per cent in each district.
On healthcare infrastructure planning, Bhushan advised the state to augment the bed capacity, if the occupancy is more than 40 per cent.
With a rise in fatalities, he advised to follow clinical management protocol effectively and promptly. "All facilities also should be monitored with respect to the overall fatality, including deaths being reported between 24, 48, and 72 hours of hospitalization to identify any weak spots and to undertake required corrective action," he further said in his letter.
The Health Secretary also advised the state to ramp up vaccination programmes and ensure strict enforcement of Covid appropriate behavior in the community.