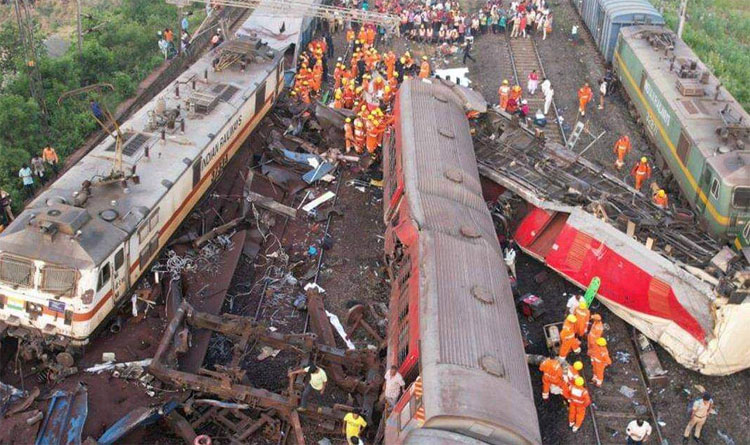 Balasore: Just two days after receiving the order from the Railway Board, the Central Bureau of Investigation (CB) has reached Bahanaga railway station and started investigation into the horrific triple train accident that killed 278 persons.
The Railway Board on Sunday recommended a CBI probe into the tragic accident and a 10-member CBI team had reached Balasore on Monday evening. The CBI team started investigation into the case on Tuesday morning.
The CBI officials are examining the accident site, tracks, the signaling room, control room, etc., an official said.
Chief Commissioner of Railway Safety (CCRS) Shailesh Kumar Pathak visited the accident site on Monday where he went to the control room, signal room and signal point at Bahanaga Bazar railway station.
"The CBI team is here to investigate the accident. They are doing their job. We cannot disclose any information about their investigation. They have a system of working. They will clear all evidence and details from the spot," said Aditya Kumar Choudhury, chief public relation officer (CPRO), South Eastern Railway.
Meanwhile, speaking to media persons, Khurda Road Division DRM Rinkesh Ray suspected 'physical tampering' of the system of the Bahanaga station.
"There was a green signal on the main line. The signal is usually green when all the pre-conditions required for the signal to go green are perfect. If any of the pre-conditions does not meet, technically the signal can never turn green, unless and until anyone physically tampers with the signal system. But, from the data records, it shows that when Coromandel Express was reaching the station, the signal was green, but the train moved to the loop line," said Shri Roy.
The statement of Shri Roy indicates tempering of the system behind the massive train tragedy. However, the exact reason behind the accident will be known after completion of the twin investigations by CBI and CCRS, an official said.