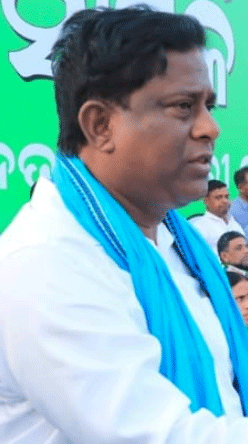 Brahmagiri: Making a controversial speech, senior BJD leader Sanjay Das Burma has alleged that some 'foreign powers' are trying to loot Odisha's mineral resources and plunder Lord Jagannath's Ratna Bhandar.
The senior leader of the Governing party made such an exclusive statement during BJD's Jansampark Padyatra in Puri on Sunday. The video footage of his speech is now roaming from one mobile to another in the political circle in the state. It has also created an explosion within the BJD.
"Some foreign powers have an eye on our wealth. They are trying to loot Odisha's rich mineral resources and (Srimandir) Ratna Bhandar. We have to defeat these elements … foil their conspiracy," the BJD General Secretary (Headquarters) said in his speech.
"I sincerely appeal to all the mothers, to protect us and give us strength to fight these conspirators," he told the crowd present at the meeting. However, the BJD leader has neither named anybody.
He also said that Chief Minister Naveen Patnaik has given many important positions including ministerial posts to him. Even after his defeat in the election, he was made Deputy Chairman of the Planning Board by the CM, the former Minister pointed out.
"However, today the situation has changed. Some people think that every decision made will be abided by. Fitting reply will be given to the conspirators. We will die fighting but will never stoop down to encourage settlement politics," he said without naming anybody.
Brahmagiri Assembly constituency in Puri district will not be allowed to suffer because of any form of compromise or conspiracy, he added.
Notably, the Mr.Das Burma has been side-lined by the party for several months. He was not given any position after being removed from the Deputy Chairman of the State Planning Board. No work has been given to him during the Dhamnagar by-poll too.