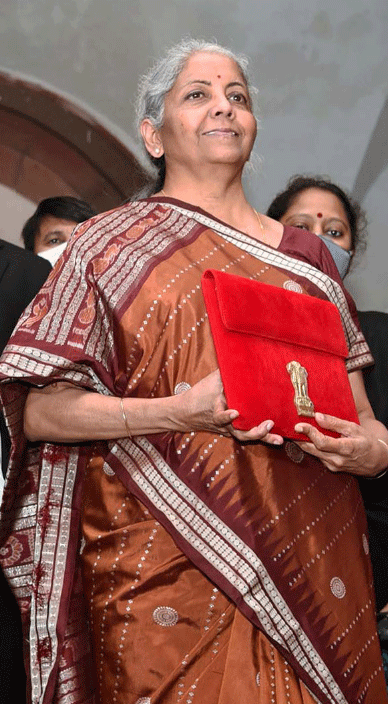 Bhubaneswar: For her fourth budget presentation, Union Finance Minister Nirmala Sitharaman kept her look simple and elegant, sporting a crisp rusty brown coloured Bomkai saree with off-white border detailing that spread throughout the sides.
There was a buzz that Shrimati Sitharaman may opt for a Banarasi saree, considering the UP assembly elections are just around the corner. However, she once again showed her love towards Odisha handlooms by wearing Bomkai Patta saree, which is being weaved by artisans of Western Odisha.
Traditional Bomkai silk sarees, also known as Sonepuri saree, is uniquely woven and originated in the western Odisha. In the traditional weaving technique of these sarees, low count cotton yarn was used, which essentially is coarse, heavy and is dyed in bright colours.
She paired the saree with a white shawl and white face mask. Shrimati Sitharaman rounded up her look with a red bindi and tiny earrings, which complimented her golden chain and bangles.
In 2021, Shrimati Sitharaman donned a bright red and off-white Pochampalli silk saree paired with a matching red blouse. She completed her look with a gold chain, bangles, and tiny earrings.
Prior to that, for the 2020-21 budget session, she had worn a pristine yellow-gold silk saree with a blue border and a matching blouse.
Promoting handloom sarees, in 2019, she tweeted, "Silk or cotton, Orissa-handloom sarees are one of my favourites- the colour, the weave, the texture, just so good."
Shrimati Sitharaman had drawn a lot of attention during her first budget presentation in 2019 when she skipped the customary colonial-era briefcase in favour of a traditional bahi khata, which is a form of ledger wrapped in a red coloured fabric.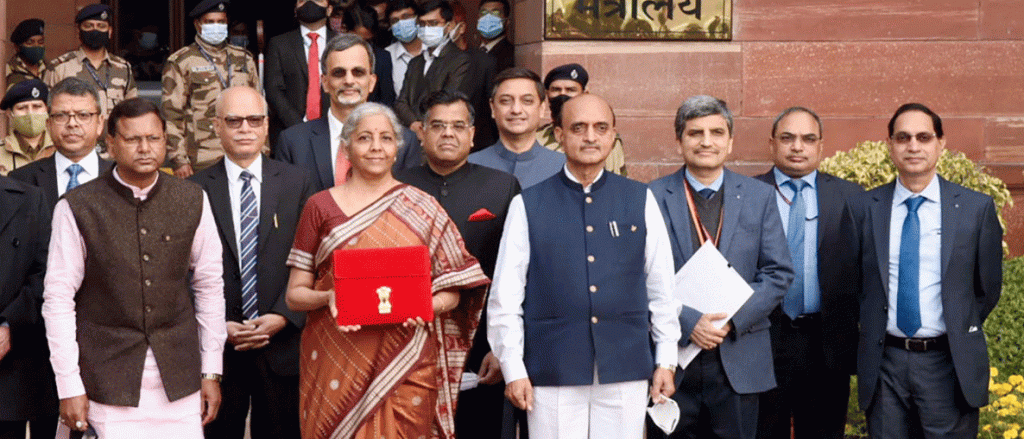 Another Odisha connection in the Union Budget is that two big brains behind the Buget preparation are somehow related to Odisha.
They are Odisha cadre IAS Officers -Secretary, Ministry of Corporate Affairs (MoCA) & Secretary, Department of Financial Services, Rajesh Verma and Tuhin Kanta Pandey Secretary Department of Investment & Public Assets Management (DIPAM).
Interestingly both are of same batch-1987 IAS and same Cadre, Odisha and hardworking and honest Mandarins.