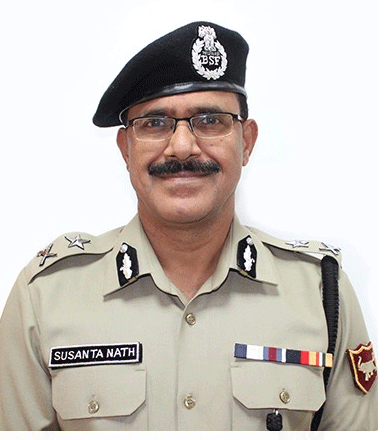 Agartala: Border Security Force (BSF) has not only increased vigil on Indo-Bangaldesh International Border, but it has also introduced a number of CCTV projects on border connecting to Bangladesh Sector and Frontier .
IGP BSF Tripura Frontier, Susant Nath has rushed to the Border and reviewed the challenges faced by the BSF troops while discharging their duties on the Indo-Bangladesh International Border in the State of Tripura.
While a group of BSF Jawans were performing operational duties on the international border in the area of responsibility of Border Outpost Bir Singh, under Belonia under subdivision on 1 February, around 11 am observed six to seven trans-border miscreants trying to damage the IBB Fence with an ill intention to smuggle cattle to Bangladesh.
When the troops on duty tried to resist such unlawful act, the miscreants adopted aggressive posture and physically attacked the BSF party using dao and lathis which resulted in serious injuries to one of jawan.
Meanwhile, a large crowd gathered at the spot encircling the BSF party. Sensing imminent danger to life and property, the jawans resorted to fire of one shot by non-lethal weapon ( Pump Action Gun (PAG) in self-defence, resultantly all miscreants fled away from the spot and reportedly one miscreant namely Jasim Miah of Debipur under Hrishyamukh RD Block sustained pellet injury.
Further learnt that the injured miscreant was evacuated to PHC Hrishyamukh and further referred to Sub Divisional Hospital Belonia, where the Doctor declared him dead.
FIR of the incident has been lodged in the police station and BSF has ordered a departmental inquiry to investigate into the matter.
Mr.Nath rushed to the International Border and reviewed the situation, while appreciating the efforts of Jawans.
Due to overdrive more than Rs 8 Crore worth seizures made in 2020, mostly in last quarter after COVID-19 Pandemic.
In fact BSF vigil on International Border substantially increased, firing PAG increased, seizures increased, revealed a senior Commander.
.