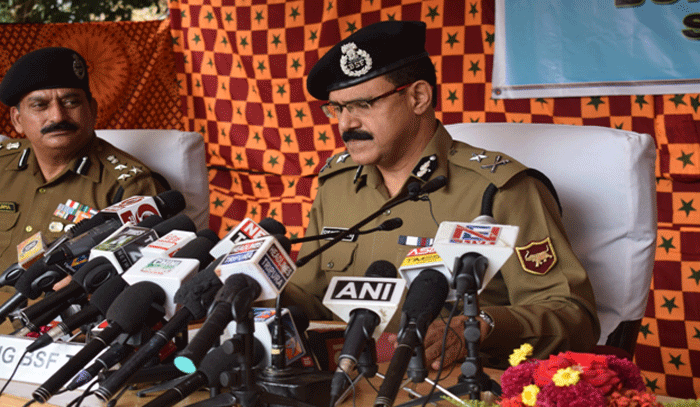 Agartala : While preventing and controlling Trans Border Crimes, Border Security Force (BSF) Tripura Frontier is also apprehending persons attempting illegal crossing of the International Border, so also maintaining cordial relationship with its counterpart Border Guard Bangaladesh (BGB) and various agencies of Government of Tripura and Union Government as well.
Susanta Kumar Nath, Inspector General, BSF Tripura Frontier detailed out the achievements in an Annual Media Briefing held here on 7 January at its Headquarters.
BSF Tripura Frontier, while facing COVID-19 Pandemic, which posed serious challenge, it took several pro-active and timely measures at different Command Levels for which tough 1531 Positive cases were reported amongst the Members, not a single case of fatality has been reported in the BSF Frontier, pointed the Top Cop.
So far prevention and control of Trans-Border Crime is concerned, highest priority are being given by BSF Tripura Frontier to prevent and contain the smuggling of narcotics, drugs and various contraband articles, said IG BSF, Mr.Nath.
Total seizure was Rs.41.95 Crore, which include Narcotics worth Rs.27.72 Crore, Contraband items worth Rs.11.33 Crore, Gold Biscuits worth Rs.95.93 Lakh, Cattle worth Rs.1.93 Crore.
Due to high degree of alertness and vigil by BSF Troops on the Border during this year, 131 persons attempting illegal crossing of the International Border were apprehended by BSF, which include 85 Indians and 46 Bangaldeshi Nationals.
While BSF is maintaining cordial relationship with various agencies of Government of Tripura and Government of India, due to such initiatives, positive results are being yielded in prevention and control of Border Crimes, Prevention of Narcotics and Drug, Cattle Smuggling and anti-Insurgency Activities, said IG BSF Mr.Nath.
Keeping cordial relationship with local people is a forte of BSF Tripura Frontier and it has conducted several Civic Action Programs, including conducting Pre Recruitment Training for employability in Armed Forces, Driving Training of Local Youth, Distribution of Water Storage and Filtration Machines, Distribution of sports Materials among Local Youth, Health Care and Provision of Common Use Goods to Local and Primary Schools.
During COVID-19 Pandemic, BSF Tripura Frontier carried out Awareness campaign, distributed Facemasks, Sanitizers, PPE Kits and ration Items more than Rs.6.47 Lakh.
In order to celebrate 50th Anniversary Year of Bangaldesh Liberation War Victory, the BSF Tripura Frontier is organizing Year Long Program starting with War Victory Day on 16 December .
Rich tributes were paid to the Martyrs of Bangaladesh Liberation War of 1971 and War Veterans were facilitated for their dedicated service towards the Nation.
Various other programs are chalked out and one such program is Cycle Rally along with along the entire Indo-Bangaldesh Border Line covering all Six Frontiers of Eastern Command Headquarters BSF Kolkata, which will start on 10 January from West Bengal side and will culminate on 17 March on Mizoram side of the Border.
Cycle Rally will cover total distance of 3266 Kilometers out of which 817 KM will be covered in the State of Tripura, said IGP BSF Tripura Frontier, Mr.Nath, who is also an Avid Cyclist.