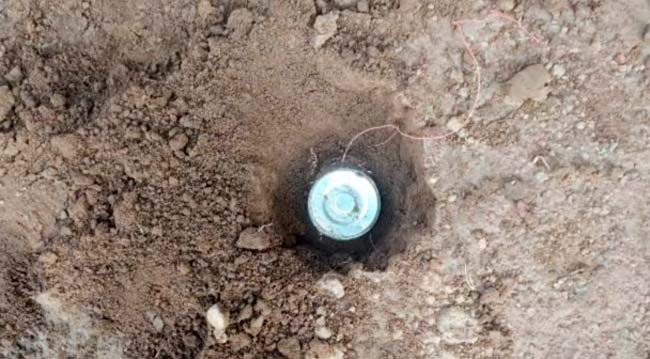 In a major bid to foil subversive attempt of the Maoists, the Jawans of  Border Security Force (BSF) recovered IEDs (improvised explosive devices) in the tin and steel containers planted on the roads in Swabhiman Anchal of Malkangiri district.
Left wing Extremists (LWE) were targeting the security personnel, BSF Official sources feel. With an intelligence based operation launched in the Swabhiman Anchal close to Odisha-Andhra Pradesh border on 19 October 19, alert Jawans of BSF traced 7 IEDs planted on the road axis of Dharlaveda-Tutugumi-Guraserthu. 
It is suspected to be handiwork of the LWE Guerrillas targeting the Security Force movement in the interior areas of Malkangiri district. As BSF has been inching forward in the Northern Zone of Swabhiman Anchal and has reached Jodambo, the Ultras plan to foil the move as intelligence inputs reveal. 
BSF Team cordoned off the area and under the supervision of bomb disposal squad, in the wee hours of 20 October, the Jawans demolished the IED site. "No collateral damage has taken place," officials informed. Swabhiman Anchal being located in Odisha-Andhra Pradesh border, has been under rapid development by the District Administration of Malkangiri However, the Maoists are always in action to destabilize it and cause damage to security forces and government project, he said. 
Meanwhile, the security forces in the region are alert and extra careful to such incidents, officials say. 
The incident came a day after a Maoist arms dump was unearthed and a huge quantity of explosive materials stocked by the red rebels with plans to target security forces seized in Koraput district. The explosives were recovered during a joint combing operation carried out by the Border Security Force (BSF) and the District Voluntary Force (DVF) of Koraput on Sunday following a tip-off, a senior police official said.
Acting on intelligence inputs about the movement of 15 to 20 armed cadres of the banned CPI (Maoist) in an area under Machakund police station limit, the operation was launched by a joint team of BSF and DVF, Koraput Superintendent of Police Mukesh Kumar Bhamoo said.However, the Ultras managed to flee before the arrival of the security forces at the site, located in the Koraput-Malkangiri border area.
During search in the area, the security personnel noticed an explosive dump and a Bomb Detection and Disposal (BDD) team was immediately rushed to the spot, while the area was cordoned off, he said.After taking necessary precautionary measures, huge quantities of explosive materials and other items, dumped by the Maoists with an intention to target the security forces, were seized, the SP said.
The materials were apparently stored in order to prepare EDs to attack the security forces, he said.
The materials recovered from the site included 18 slurry and emulsion explosives, 500 pieces of gelatin sticks, some wire, splinters and camera flash. Several Naxal literature and photographs were also seized from the site, police said.