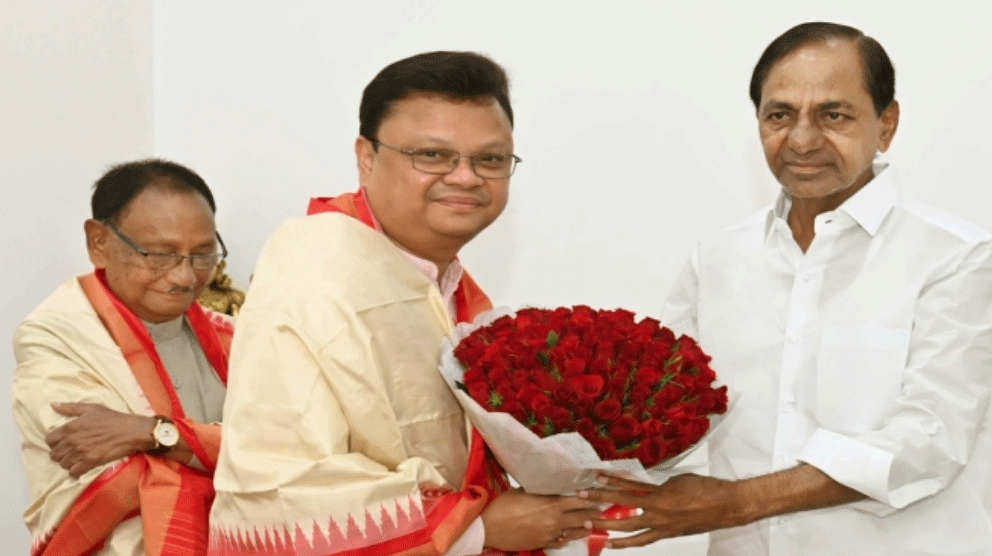 Bhubaneswar: Former Chief Minister of Odisha and senior BJP leader Giridhari Gamang along with his son Shishir met Telangana Chief Minister K Chandrasekhar Rao in Hyderabad on Friday.
This meeting has created speculations that he may join the Bharatiya Rashtra Samithi (BRS), the national party formed by K Chandrasekhar Rao.
"Former Odisha Chief Minister, senior Parliamentarian, national leader Sri Giridhar Gamang paid a courtesy call on Chief Minister Sri K Chandrashekar Rao at Pragati Bhavan today. Sri Shishir Gamang, son of Giridhar Gamang, and others were present at the meeting," tweeted Telangana CMO.
Speaking to the media, Sisir said the Telangana CM is an old friend of his father. So, he (K Chandrasekhar Rao) had invited the ex-CM for a meeting. As Rao has formed a national party, he invited Gamang to join his party and take the lead in Odisha.
"It is only the first meeting. We are very much in the BJP. We have only got an offer and have not taken any decision and not communicated our views also," Sisir said.
The Gamang family is a known political name in Odisha especially in southern parts of Odisha, where many Telugu speaking people are residing. So, it is a move by Shri Rao to rope Shri Gamang into his party fold to spread BRS's wing in Odisha.
The BRS is also scheduled to hold Khammam meeting on January 18, which will witness the participation of not only the Left-wing parties, including Kerala Chief Minister P Vijayan, Delhi Chief Minister Arvind Kejriwal, Punjab Chief Minister Bhagwant Singh Mann but also senior leaders like Giridhar Gamang from Odisha.
Shri Gamang had shot to fame when his vote played a crucial role in the no-confidence motion against Prime Minister Atal Behari Vajpayee government in 1998.
The former CM of Odisha and ex-MP from Congress party, had joined the BJP in 2015. Both father-son duo are in BJP now. However, they are not very much politically active in the State.