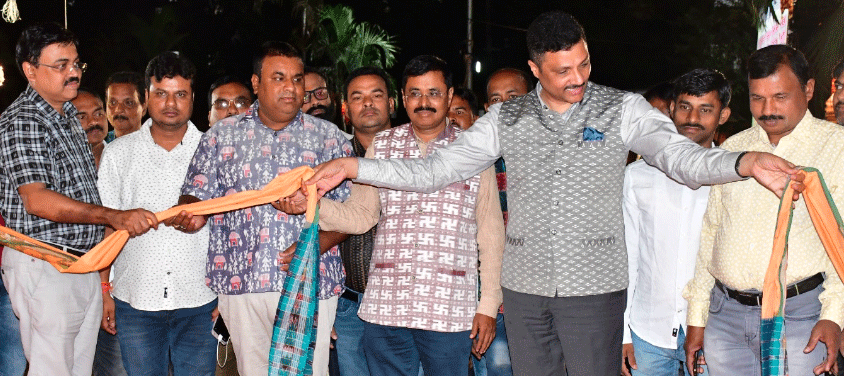 Bhubaneswar: Team Odisha Handloom presented a Joint effort to showcase the unique products of Odisha to a larger audience in Special Handloom Expo organized here on 20 March at Ekamra Haat.
Principal Secretary Handlooms, Textiles & Handicrafts, Arabinda Kumar Padhee and Special Secretary Handlooms, Textiles & Handicrafts, Srikanta Prusty graced the occasion.
Odisha State Handloom Weavers Coop. Society Ltd, popularly known as Boyanika, the only Apex Society of the State is organizing the "Special Handloom Expo at Ekamra Bazar in the premises of Ekamra Haat, Bhubaneswar up to 31 March.
This move is for facilitating sustainable livelihood to the weavers of the State by providing a common platform for marketing of Handloom Products.
In fact the art of Handloom Weaving is highly evolved and its fabrics bear testimony to the artistic ability and tradition of weavers of the State as well as whole Country.
Handloom Expo is organized with an objective to showcase & sell different Handloom Products of the State.
The Expo is sponsored by Development Commissioner for Handlooms, Ministry of Textiles, Government of India. 40 Leading Primary Weavers' Co-op Societies, Self help Groups and Master Craftsman of the State and 20 Handloom Agencies from outside state along with Boyanika are participating in this Expo.
The Exhibition will remain open from 11 AM to 9 PM on all days and Special Government Rebate is being given to the valued customers on purchase of every Handloom Product in this Expo. Dr.Padhee inaugurated the Expo.
Srikanta Prusty, Special Secretary Handlooms, Textiles & Handicrafts and Managing Director, Boyanika, Prakash Chandra Meher, President, Boyanika and Shovan Krishna Sahu, Director of Textiles & Handloom, Odisha graced the occasion along with other officials.
Apart from marketing of Odisha Handwovens, Boyanika is committed for all round socio-economic development of weavers of the State. Boyanika will go on exploring every new horizon for expanding its market in and outside the State in the coming years. Above all, for wide publicity of Odisha Handwovens, the role of Media has always been immense and praiseworthy, said a senior official.