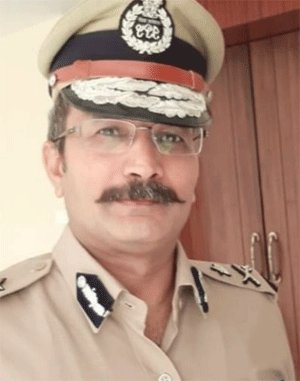 Bhubaneswar: 1988 Batch IPS Manoj Kumar Chabra has been appointed as DG Prisons and Correctional Services.
Mr.Chabra, one of the senior most Top Cops is serving as DG Special Armed Police (SAP) of Odisha.
Veteran Top Cop Santosh Kumar Upadhyay has been appointed as DG Fire Services of Odisha.
1988 Batch IPS Mr.Upadhyay is also DG Home Guards and Director General Civil Defence.
Department of Home has brought out a notification in this regard on 29 April, notifying Mr.Upadhyay as DG Fire Services, HG and CD.
Mr.Upadhyay presently serving as DG Prisons and Correctional Services has been performing his assignment with utmost sincerity.
Odisha Government has appointed Senior Top Cop Sanjeeb Panda as Director Intelligence.
1994 Batch IPS Mr.Panda, an informative Top Cop is eminently suitable for the Top Intelligence assignment, which is crucial for the State.
While Mr.Panda has been serving as ADG Crime Branch has handled the crucial assignment with all his sincerity and effectiveness, he is expected to deliver the service in handling sensitive posting as well.
Mr.Panda, who is CMD Odisha State Police Housing and Welfare Corporation (OSPHWC) is allowed to continue as the Chief of the Organization.
After Mr.Panda took over OSPHWC, large number of projects are taken up by the organization and State Government has reposed faith on him, who has the ability to scale up the activities and timely execution of the projects.
1996 Batch IPS Officer Arun Bothra is appointed ADG Crime Branch, known for his effectiveness and ability to nab criminals.
While Mr.Bothra is allowed to handle Transport Commissioner Assignment, he will be handling one of the most critical assignments of the Odisha Police, CB-CID.
While 2002 Batch IPS S K Gajbhiye is appointed IGP Communication, 2003 Batch IPS Shafeen K Ahamed is appointed as IGP HRPC.
2008 Batch IPS Uma Shankar Dash is appointed Additional Commissioner of Police on promotion to DIGP Rank.
2007 Batch IPS Niti Sekhar is appointed DIG Rourkela and 2011 Batch IPS Pinak Mishra has been brought in as DCP Cuttack.
2013 Batch IPS Smit P Parmar is appointed as new SP Bargarh, and 2014 Batch IPS Prateek Singh is appointed as DCP Bhubaneswar.
2015 Batch IPS Rahul Jain is new SP Jharsuguda and 2015 Batch IPS Sarvana Vivek is new SP Berhampur.
2017 Batch IPS Siddhartha Kataria is new SP Khurda, 2018 Batch IPS Abhilas G is new SP Kalahandi and 2018 Batch IPS S Susree is new SP Nawarangpur.
Senior OPS Officer Alekha Pahi is appointed as SP Nayagarh.