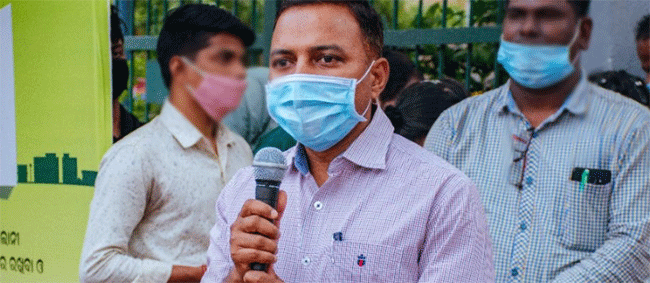 Beating COVID-19 Pandemic induced shutdowns and lockdowns, State Government has spent highest amount of Rs.26,000 Crore in social Sector by October, 2020.While the budget utilization crossed Rs.51,000 crore by October, 2020 with highest utilization achieved of around Rs.26,000 Crore in Social Sector.
Chief Secretary Asit Tripathy directed the departments to "focus on speedy implementation of the livelihood and infrastructure laying projects".
Beating the Covid-19 adversities and bottlenecks, State has maintained upward trend in revenue generation because of Odisha Government's realistic financial management strategies.
By October end of the current year, the total revenue collection has grown by 2.27 Percent over the corresponding period of last financial year.
Latest stats on Revenue Generation was reviewed in All Secretaries meeting held under the Chairmanship of Chief Secretary  Mr.Tripathy here on 10 November. 
Principal Secretary Finance Ashok Kumar Meena presented details.Review showed, the revenue generation from both own tax and non-tax sources grew around 2.27 Percent by end of October, 2020 in comparison to the corresponding period of the last year. 
The total revenue generation from both the sources by end of October, 2019 was around Rs. 25002.84 crore which increased to Rs.25571.42 crore during the current financial year.
The total Non-tax revenue during the period grew by 23.41 PC during in current fiscal in comparison to the last fiscal year. 
The total revenue generated from non-tax sources up to October 2019 was Rs7533.26 Crore which increased to Rs 9296.60 crore during the corresponding period of the current year.
Development Commissioner Suresh Chandra Mohapatra said, "projects of around Rs.20,000 Cr are being implemented under OMBADC and DMF. Those projects be expeditiously completed and commissioned for providing service to the people".
Further, Chief Secretary Mr.Tripathy asked the departments of water resources, rural development, works, housing & urban development to "prioritize identified strategic projects and complete those within the scheduled time". He assured the departments that there would be "no dearth of funds project implementation".
Mr.Tripathy also directed the departments to furnish their budget input by December end for preparation of ensuing 2021-22 annual budget. COVID observers were advised to review covid-compliant behavior, winter preparedness, treatment facilities in Government hospitals and implementation of livelihood sector programs during their visit to respective districts during this month. 
Agriculture Production Commissioner Raj Kumar Sharma,  Additional Chief Secretary Health and Family Welfare Pradipta Kumar Mohapatra, Additional Chief Secretary Rural Development and SRC  Pradeep Kumar Jena Additional Chief Secretary Forest & Environment Mona Sharma along with Principal Secretaries, Secretaries and Special Secretaries of all departments participated in discussions over OSWAN platform from different conference halls of the Lokseba Bhawan.