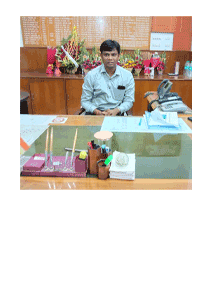 Khurda: In a major explosion caused due to firecrackers, at least four people were killed and another four got serious injuries at Bhusandpur village of Khordha district on Monday.
The incident happened in a single house located near Bhusandpur village under Tangi police limits. The explosion occurred when the victims were reportedly making firecrackers for the Dola Utsav. However, the exact reason which led to the explosion is yet to be known.
Senior officials of the Khurda District administration including Khurda Collector K. Sudarshan Chakraborty, SP Siddharth Kataria, SDPO and local Tahsildar immediately visited the spot.
"After getting information around 10.45 AM, our local police and fire service personnel rushed to the spot and rescued the four injured persons, and immediately sent them to Khurda district headquarters hospital (DHH)," said Khurda Collector Chakraborty.
A special team of the Khurda hospital is providing treatment to the injured persons, Chakraborty said.
"The firecracker unit was operating illegally. No license was issued for it. We will investigate the incident and take strict action against the concerned persons as per law," the Collector said.
Four persons including father-son duo have died in the incident. Only two of the deceased have been identified while the process is on to get the identification of the others.
Meanwhile, two of them with very saviour burn injuries have been forwarded to AIIMS Bhubaneswar, an official of the Khurda hospital said.
The Collectors also informed that he will launch a special drive to identify such illegal firecrackers manufacturing units. Strong action will be taken against such units, he warned.
Notably, at least two persons were killed and two others injured in a similar incident in Jagatsinghpur district on February 28 last.