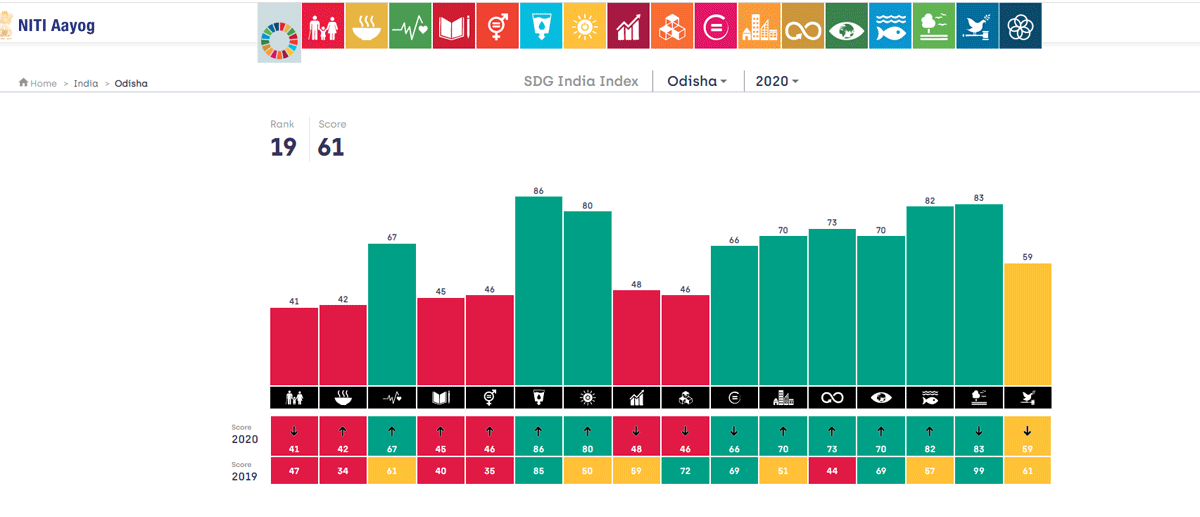 Bhubaneswar: As Odisha slipped four places on Sustainable Development Goals (SDGs) in NITI Aayog's India Index 2020-21,a blame game has got underway inthe state. As a matter of concern for all it fell from 15th slot last year to 19th rank. Despite having implemented the 5-T Initiative and Mo Sarkar, the state's own model of governance, Odisha features among the bottom five states with Nagaland and Chhattisgarh. Performances of the states were assessed from 16 SDG points.
The opposition BJP has come down heavily on the state's BJD government and held it responsible for the lacunas. BJP's Bhubaneswar MP Aparajita Sarangi and BJD's Rajya Sabha MP Amar Patnaik have entered into a verbal duel over this. However, will such a blame game help the state to improve its position? Certainly not.BJD has pleaded that there should be no politics over the SDG Report while Aparajita found it as a major tool to grind the government.
The objective of the State Administration should now be to focus on the measures to be taken for course correction. There is no dearth of talent and potential in the state to grow. Had it not been the case, Odisha could not have topped in the index like Climate Action and Life Below Water score. There is a simple logic. If a student can secure 100 marks in Mathematics, why cannot he excel in other subjects? In all likelihood the student focused fully on Mathematics and neglected other subjects leading to poor performance.
The SDGs encompass all the key development sectors including education, health, sanitation, employment, infrastructure, energy, and environment, and set time-bound targets to achieve them. It is also clear that the people at the helm looking after different aspects, have not given their best.
Now, the State Government should respond to the templates in SDG front so that it could present its data in a more accurate manner. Odisha's poor show could be due to the non-compliance of information sought by NITIAayog and shoddy presentation of facts and figures. This is not the job of the Department of Planning and Convergence alone, which handles SDG issues. All line departments should take ownership over data regarding SDGs. The Departments are responsible for providing foolproof macro and micro data in NITI Aayog template.
What is worrisome is the fact that while the state has slipped from 15th to 19th rank in SDG, 32.59 Percent of population still live below poverty line. Besides, 14.2% of people still live in kutcha houses, nearly 29%are underweight and stunted children, 47.6% pregnant women are anemic and crime against women at 103.5 per lakh is among the highest in country. No politics, corrective actions alone is need of the hour to improve the state's SDG tag.
Take for example the State lags in Decent Work and Economic Growth with only 11.92 bank branches and 15.72 ATMs per one lakh population. The State, however, has 75.09 pc mobile connections reporting a rise while its 44.87% internet coverage is a large drop from 122% in 2019. Now question arises who is responsible for bank branch expansion? It is the commercial banks, which are reluctant to set up more brick and mortar branches. Similarly, responsibility of expansion of broadband lies with Ministry of Communications. So, it is a joint effort by both State and Centre to achieve SDGs by 2030.
All opposition parties would agree that Odisha, which was counted as one of the poor states during 80s and 90s, has now become a faster moving state, when it comes to development. Odisha's score in the SDG index prepared has increased by 10 points in the past three years. The SDG index score of Odisha which was 51 in 2018 was increased by 7 points in the next year (2019) and reached to 61 this year.
The score in the population below poverty line has remained the same in the past three years while performance in creation of employment under MGNREGA was gone up in 2019 compared to 2018, and again it slightly comes down in 2020. When it comes to malnutrition, the State`s performance had improved in 2019 and remained so in 2020.
The Maternal Mortality Ratio (per 1 lakh live births) has improved constantly in the state during the three years. The MMR in the year 2018 was 180, which was decreased to 168 in 2019 and 150 in 2020. The state has also done well in containing TB and new HIV cases. However, the performance of Odisha in ensuring availability of physicians, nurses and midwives per 10,000 population has gone down (from 41 to 39).
Enrolment in elementary education has also gone down in the State in 2020 in comparison to the previous year. But, the State has been able to improve in controlling dropout at secondary level (Class IX and X).
Crimes against women have increased in the state in the year 2020 compared to 2019. Similarly, the girl child birth ratio has come down from 948 in 2018 to 938 in 2019 and 933 in 2020.
The BJD Government is giving full focus on women empowerment including rise in participation of women in law making processes. It yielded results and showed in the NITI Aayog report. The representation of elected women percentage in the State Legislative Assembly has been increased from 7.48 (2018) to 8.84 (2019) and 8.90 (2020).
Odisha has also performed well in providing safe drinking water to rural population, mobile connectivity, aquaculture, forest cover and tree plantation and Aadhaar enrolment in the past one year.
However, the State has failed to control incidence of crime such as murders, cognizable crimes against children and human trafficking.
So, it is time for introspection and to improve the SDG status on mission mode approach. Looking at the changing parameters of NITI Aayog, which varies from year to year, roping in young professionals and team spirit are a must for responding to the templates of NITI Aayog in a precise manner.