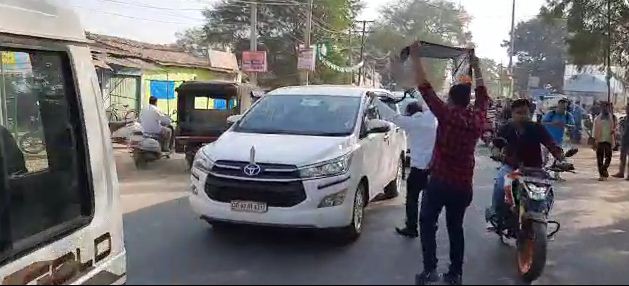 Baragarh: Opposition BJP and Congress Saturday further intensified their stir demanding removal and arrest of Minister of State for Home, DS Mishra for his alleged link with the prime accused in the Kalahandi woman teacher's murder case, and hurled eggs and showed black flags to certain ministers and ruling BJD MLAs in Bargarh district.
The Ministers and party MLAs face ire of the opposition activists while they were on the way to attend Chief Minister Naveen Patnaik's meeting at Bijepur in Bargarh district. Mr.Patnaik launched the distribution of smart health card under Biju Swasthya Kalyan Yojan (BSKY) in Bargarh district.
The BJP workers hurled eggs targeting Odisha's SC and ST Development Minister Jagannath Saraka's vehicle at Paikamala Chhak while opposing the minister's visit.
Atabira's BJD MLA and former Minister Snehangini Chhuria also faced similar attack by Congress workers at Ekamra Chhak here when she was on the way to Bijepur to join the event.
Ahead of the CM's visit the police detained many Congress and BJP leaders as a preventive measures. BJP's State Yuva Morcha President Irasish Acharya, former Congress MLA Nihar Mahanda were also taken into preventive custody in Padmapur.
Earlier on November 11, the activists of Bharatiya Janata Yuva Morcha (BJYM) waved black flags at Steel and Mines Minister Prafulla Mallick in Keonjhar district when he was on his way to attend the District Planning Board meeting.
MOS, Home DS Mishra had also faced egg attack and was shown black flag during his recent visit to Junagarh in Kalahandi district on November 7.
In Baripada of Mayurbhanj district, BJP workers hurled eggs at police after they were stopped from forcefully entering the SP office by breaking the barricades.