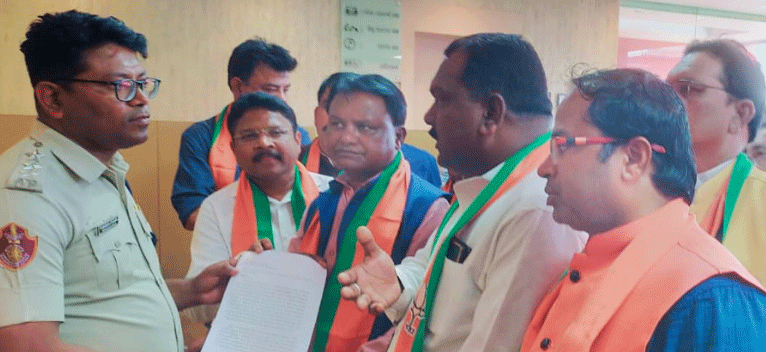 Bhubaneswar: The BJP, which has been protesting deteriorating law and order condition in the State, on Friday lodged a complaint against senior BJD leader and former Mumbai Commissioner of Police Arup Patnaik for making derogatory remarks against leader of Opposition Jayanarayan Mishra.
BJP MLAs today took out a padayatra from Raj Bhawan and lodged a complaint against the BJD leader at the Capital Police Station.
The BJP lawmakers also met Odisha Governor Prof Ganeshi Lal and submitted a memorandum to him seeking protection of their leader in the House.
BJP chief whip Mohan Majhi alleged a conspiracy to kill Shri Mishra after the statement made by Arup Patnaik. He said the state government instead of finding out the main conspirators in the murder of Health Minister Naba Das, has been targeting the Leader of Opposition, who has been very vocal in accusing the government of suppressing the matter.
The ruling BJD had demanded the BJP to remove Shri Mishra from the Leader of Opposition post for denigrating the woman and assaulting a lady police officer during a demonstration in Sambalpur.
Shri Majhi alleged that the Lady IIC had attacked Jayanarayan Mishra and later senior BJD leader Arup Patnaik had threatened Shri Mishra which indicated that there was a well-orchestrated conspiracy to attack Shri Mishra.
BJP MLA Mukesh Mahaling said his party will continue to fight inside and outside the Assembly, if Shri Patnaik is not arrested for threatening the Leader of Opposition.
Meanwhile, the Leader of Opposition said he is not going to apologise as he has not made any mistake. To dilute Naba Das murder case and divert the attention of people from it, they have been targeting him, alleged Mishra.
On the other hand, BJD MP Munna Khan said Mishra should seek apology before the public for assaulting the lady police IIC. Otherwise, BJD will continue to hit the streets.