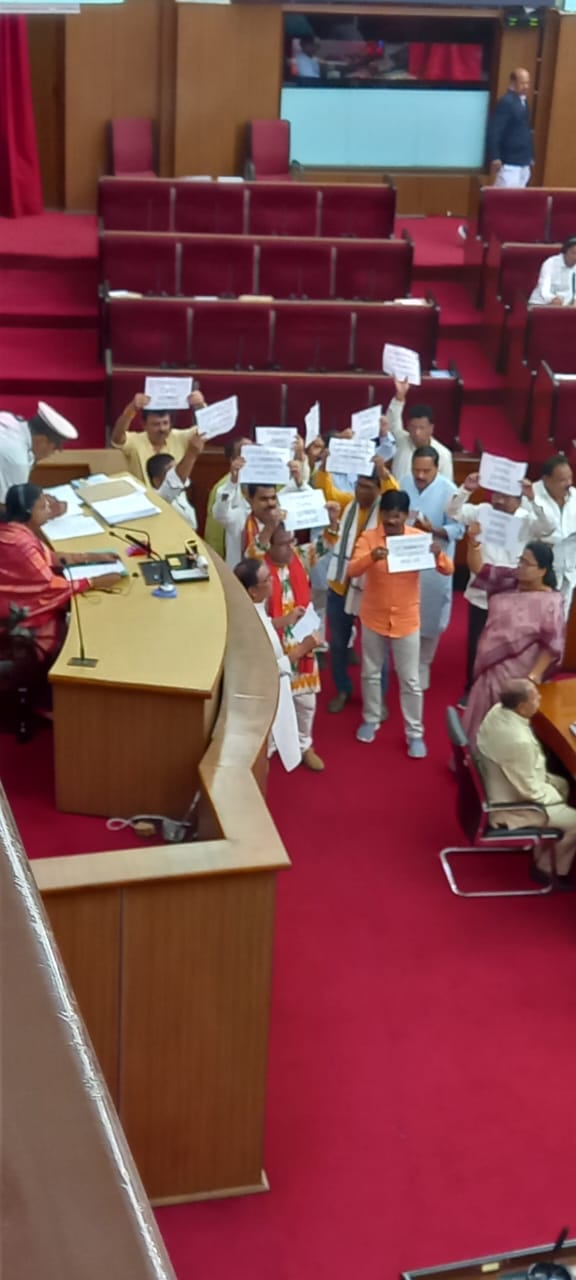 Bhubaneswar: Opposition BJP Members continued to stall the proceedings of the State Legislative Assembly by creating a ruckus inside the House. Today, the BJP MLA were raising their voices against the 'anti-people' remarks made by Chief Minister Naveen Patnaik against the Opposition.
The BJP Members also demanded the lifting of the suspension order served on two of their colleagues – Mohan Charan Majhi and Mukesh Mahaling from the House. Speaker Pramilla Mallik suspended the two BJP MLAs for allegedly throwing pulses at her podium last Thursday.
As soon as the House assembled for the day, legislators were on their feet raising slogans against the remark made by the Chief Minister against the opposition.
The BJP members trooped into the well of the House and shouted slogans in support of their demands disrupting the question hours forcing the Speaker to adjourn the proceedings till 4 PM .
During BJD's padayatra programme yesterday, the Chief Minister had said the Opposition were misleading people with false information. Whenever an election is approaching, they adopt such practices, but are always rejected by the people.
He alleged that the opposition is trying to stall and conspire against the Lord Jagannath and Lingaraj temple projects. But, the people will never forgive them, Shri Patnaik had said.
"People very well know about the anti-people and anti-development strategy of the opposition parties……the people will never forgive those who opposed redressal of their grievances," he had stated.