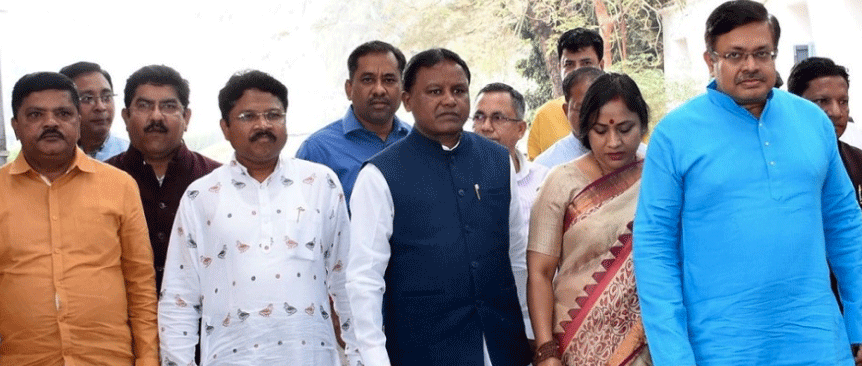 Bhubaneswar: Taking the PMAY issue to a further level, the Odisha BJP on Tuesday sought intervention of Governor Ganeshi Lal for ensuring ownership and accountability of Odisha Administration in transparent and fair allocation of PMAY-G houses to beneficiaries in Odisha.
A delegation of BJP led by BJP Chief Whip Mohan Majhi submitted a memorandum to the Governor in this regard.
The Centre has ensured allotment of an additional 9.5 lakhs houses to Odisha under PMAY-G in the extended phase of PMAY extending the beneficiaries in Odisha close to 28 lakhs.
However, recent unpleasant experiences and incidents of favoritism and rampant corruption in allocation of PMAY-G houses to beneficiaries is derailing the ambitious scheme and is an outright denial of rightful houses to the eligible beneficiary, the BJP said in its memorandum.
The Ministry of Rural Development has chalked out detailed procedure and mechanism to ensure strict systemic vigil and public scrutiny so that validation of the beneficiary is truly fair and transparent, and no ineligible households are included based on favoritism.
Additionally, the mechanism of Gram Sabha Validation, Geo Tagging, Beneficiary Aaddhar Seeding and Bank Account Verification of selected beneficiaries are also incorporated.
The party said that the beneficiary registration in Awaas+ Platform has been started and, in this regard, a detailed guideline has been issued by the Director, Special Projects, Panchayati Raj and Drinking water department.
However, it is noticed that Odisha Government has completely offloaded its ownership and responsibility of fair and transparent allocation of houses to public which is hijacked by local opinion leaders/political leadership/people with vested interests, the party alleged.
Identification of ineligible beneficiaries and validation of provisional list has also been wrested from the public without zero systemic check and balances or scope of intervention by district administration/ block/gram panchayat level officials.
"We would like to draw your attention that in most rural areas of Odisha people will be unable to file complaints as the process requires complainants to provide his/her details and registered mobile number, revealing his identity in public. This may create a life threatening situation for the complainant from people with vested interests/ politically influential persons," the BJP leaders said.
In addition, they said, in many places people are not aware of criteria for selection and rejection of beneficiaries.
In absence of awareness of rejection criteria, it is observed that provisional lists are getting approved without much intervention from the public. This jeopardizes the whole proposition of public scrutiny, they alleged.
Moreover, local people don't have a strong voice against the government officials and powerful people of that area for filing complaints against them due to various reasons.
Keeping in view of the above situation, it is felt that the process and guidelines to identify the ineligible beneficiaries may not be fulfilled through filing complaints by the people.
The BJP leaders requested the Governor to kindly look into the matter and issue necessary instructions to the State Government to ensure systemic check and balances with provision of adequate intervention by district block administration ensuring ownership and responsibility in transparent and fair selection of beneficiaries under PMAY-G.