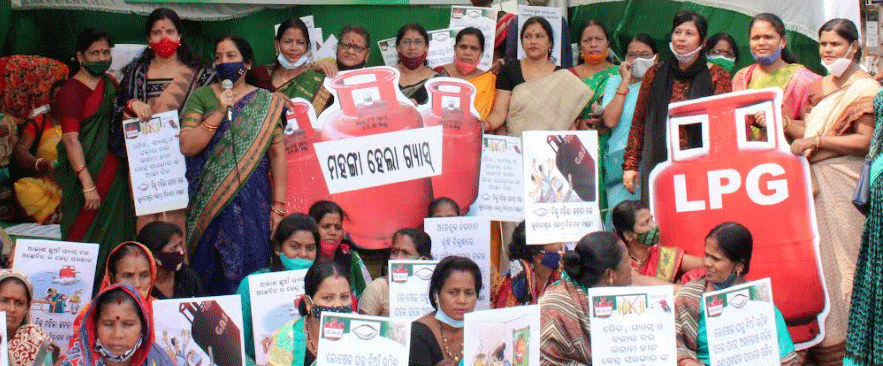 Bhubaneswar: Protesting steep rise in prices of fuel and essential commodities, the Biju MahilaJanata Dal, the women wing of governing BJD today held demonstrations in all 147 Assembly constituencies of the State.  
In the Capital City Bhubaneswar, the Biju Mahila Janata Dal leader and activists held protests before the ADM office while in other parts of the State the demonstrations were held before the District Collectorate and Block Development Offices.
The party leaders and workers carrying banners and posters slammed the BJP at the Centre squarely responsible for the rise in oil prices and other essential commodities.
"When people are suffering a lot due to Covid-19, the BJD Government at Centre is contentiously increasing the prices of petrol, diesel, LPG cylinder and other goods. Is this the Achhe Din kaSarkar?" asked BJD women wing leader SulataDeo.
It seems that the BJP Government planned to make India a 5 trillion economy country by skyrocketing the price like skyrocketing, she quipped.
On Sunday, the ruling party staged a dharna before the Raj Bhawan here for the failure of the centre to check the rising prices of petrol., diesel, and cooking gas besides the essential commodities.
The Governing party leaders threatened that the agitation will be intensified in the State and took it to every village if the BJP did not initiate measures to check the rise in fuel prices.
The Biju Yuva Janata Dal and the Biju Chhatra Janata Dal have decided to stage protest demonstrations before all petrol pumps in the State from November 5 to November 7 against the Centre's inaction in controlling the hike in prices of fuel.