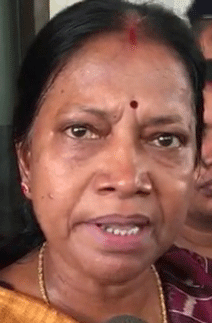 Bhubaneswar: Even as opposition BJP and Congress step up offensive against the State Government demanding resignation of the Minister of State Home linking him with the prime accused in Mamita murder case, ruling BJD slammed the saffron party for trying to get political mileage out of sensational criminal cases.
Addressing a press conference here today, BJD's Chief Whip Pramila Mallik said BJP is doing cheap politics over sensational criminal cases and trying to link BJD leaders with such crimes without any proof.
"Mamita Meher's death is extremely painful and unfortunate at the same time. Our party (BJD) has complete sympathy with Mamita's family and we are sure the culprits who have committed this heinous crime would never be spared," she said while stressing that a very senior police officer having NIA experience is handling this case.
Ms.Mallick said that the opposition parties need not spread canards in the name of the educational institution where Mamita was employed.
"This slander will impact the future of the children studying there," she said.
"There are several instances where BJP Ministers have been spotted in pictures with antisocial persons. Therefore, in this case, it is important to note that in social and political spheres we attend meetings and there are photo ops," Ms.Mallick said.
She said the political person should not be held responsible if the other person in the frame commits a crime.