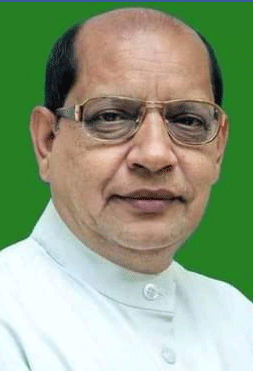 Padampur: Prasanna Acharya, Vice President Biju Janata Dal (BJD) has rejected the allegation of Union Minister Railways Ashwini Vaishnaw on Rail Project front.
He said: ". Let the BJP stop misleading and misguiding the people of Padampur. Everyone knows that the responsibility for establishing new railway lines is with the Centre and not with the State. In 2019, Railway Ministry said that this (Bargarh Road-Nuapada Road Via Padampur line was not viable after survey conducted by them and announced that the project be shelved". 

He said today Mr.Vaishnaw says that Odisha Government should provide land and then Centre will lay the railway line.
"It seems the BJP is not clear as to what and when they are saying," Mr.Acharya said asking the Centre to show the people one paper where they have asked Odisha Government for land for this Padampur railway line. 

BJD candidate Barsha Singh Bariha also countered Union Minister Agriculture Narendra Singh Tomar's allegation saying that the farmers got crop insurance due to repeated pressure mounted by the Chief Minister.
"If they (Centre) were so prompt to release funds under Pradhan Mantri Fasal Bima Yojana, what for they waited for the by-poll?," she asked.
Barsha alleged that the framers got crop insurance due the by-poll which was necessitated after her father's death. 
"Had there been no by-poll, the farmers would not have received the crop insurance", Barsha said.
She along with senior party leaders held road shows and road side meetings in Padampur Notified Area Council (NAC) area on Sunday. BJD has the stronghold in Urban Zones of Padampur.

Barsha was welcomed mostly by women and youths. "Barsha is our Bui (daughter). She is the daughter of the soil. Her father had served the people for decades and she can perform duties better than anyone else," said Sundari Bariha, a local resident.