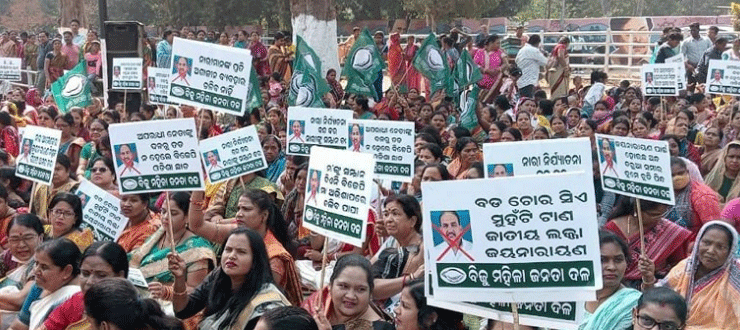 Bhubaneswar: Demanding removal of Leader of Opposition Jaynarayan Mishra from his constitutional position for alleged misbehaving with a lady police officer, Governing Biju Janata Dal (BJD) on Thursday staged a mass protest here at Lower PMG.
The BJD leaders alleged that BJP senior Lawmaker Shri Mishra physically assaulted Dhanupali police station IIC Anita Pradhan during a program protesting in Sambalpur on Wednesday.
The women wing of BJD staged a protest at the Lower PMG, outside the Circuit House in Sambalpur and his house demanding his removal from the post of LoP. The ruling party workers have also organized similar protests in other places like Berhampur, Baripada, Cuttack and Bargarh.
BJD leader and Bhubaneswar Mayor Sulochana Das alleged that Shri Mishra not only manhandled the lady IIC, he also physically assaulted her. Such behaviour to a lady police officer on duty is not acceptable and BJD strongly condemned such act of the BJP leader, she said.
Shri Mishra should resign from his position as Leader of Opposition of Odisha Assembly on moral ground. If he is not doing so, the State BJP leaders should convince him to resign, said BJD Spokesperson Shreemayee Mishra.
Reacting to BJD's protest, Leader of Opposition Shri Mishra said, "As I am continuously exposing the State Government on Naba Das murder case, a conspiracy was made to wipe me out. Law and order situation has totally collapsed in the State and no one is safe in Odisha."
Shri Mishra also refuted the allegations about assaulting the lady police IIC. "Even I don't know her. She was staying somewhere else and suddenly appeared before me and pushed me."
BJP Spokesperson Lalitendu Bidyadhar Mohapatra, however, said, "A policeman allegedly killed a Minister in Jharsuguda district. Now, a woman police officer is heckling the Leader of Opposition. There is no rule of law in Odisha. We are waiting for the CM's action against the officer."
He said that the ruling party is afraid of Shri Mishra as he would raise the law and order problem in the Odisha Legislative Assembly session, beginning on February 21.
Union Minister Dharmendra Pradhan and senior BJP leader D Purandeswari too slammed the BJD over the incident.
"To hide their loopholes and weakness, the BJD Government is sponsoring such incidents. Shri Mishra has not been made Leader of Opposition on the blessings of Chief Minister Naveen Patnaik. He has been appointed by the Parliamentary Board of the BJP," Shri Pradhan said.
The BJD leaders are speaking about moral responsibility. But, even after raising fingers towards more than a half dozen of BJD Ministers for their alleged direct involvements in murder and other cases, still they are there, Shri Pradhan said.
Meanwhile, Sambalpur Superintendent of Police B. Gangadhar said that he has sought a field report of the incident and the matter will be inquired.
The Odisha Police Service Association, Sambalpur chapter, has moved the DIG, Northern Range, seeking action against Shri Mishra.