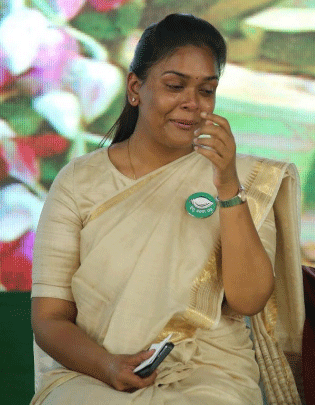 Bhubaneswar: Governing Biju Janata Dal (BJD) wins Jharsuguda Assembly Constituency with huge margin o.
With counting ending it shows that BJD wins with 48,619 votes against nearest revival BJP.
On completion of counting, BJD candidate Dipali Das got 1,07,003 votes while BJP candidate Tankadhar Tripathy secured 58,384 votes. Congress nominee Tarun Pandey remained in third position with only 4473 votes.  
In fact BJD received massive landslide victory in the by-poll. Earlier, the BJD had claimed that it would win the election with a margin of over 50,000 votes.
Counting of votes began at 8 AM on Saturday amid tight security at Jharsuguda Engineering School. Counting is being conducted on 14 tables. As votes polled in 253 booths will be counted, so there will be 18 full rounds and another partial round.
Three-lawyer security arrangements have been made in and around the counting centre. It was expected that the counting would be completed between 4 PM to 6 PM.
A total of 79.21 per cent of 2.21 lakh voters exercised their franchise in the by-poll held on May 10.
The byelection was held following the murder of sitting MLA and the then Health Minister Naba Kishore Das on January 29 this year.