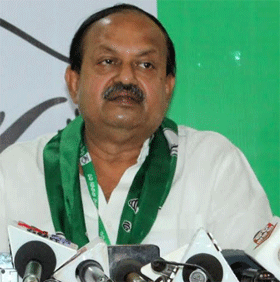 Bhubaneswar : Debi Prasad Mishra, Senior Vice President of Biju Janata Dal (BJD) has said with over One Crore Plus Members in the Party, it will continue to fight for the State.
After the State Executive Committee Meeting, Mr.Mishra addressed a Media Meet and said that BJD has added a total of 1,09,80,000 (One crore nine lakh eighty thousand) members since its inception as the political party in Odisha.
He said the State Government led by Chief Minister Naveen Patnaik has been emphasizing for protection of Odia language, Odisha culture and tradition. He has taken all responsibilities for growth of the language," said Mr.Mishra
In State Executive BJD on 20 December passed key resolutions with the commitments to continue its fight for people of the State.
As many as nine political resolutions were passed at the meeting ahead of the party's 24th Foundation Day scheduled on 26 December.
BJD passed resolutions demanding 33Percent reservation for women in Assembly and Parliament as well as protection of Odisha's rich culture and heritage.
The inclusive development of farmers has always been a key focus for the State Government, he said adding, "Our party is with farmers on MSP issue and we will continue our fight for the same as per Swaminathan Committee Recommendation."
The party raised the Special Category Status issue at the meeting.
BJD General Secretary Sanjay Dasburma said, "Odisha is the most deserving State to get the Special Category Status. But the Centre has failed to meet its commitment to grant it.

Speaking on women empowerment, he said that the State has given 50% reservation to women in Panchayatiraj system.

The party has passed a resolution demanding 33 PC reservation for women in State Assembly and Parliament, Mr.Dasburma said